A UN initiative to boost emergency response by crowdsourced mapping and space technology

How to ensure that space-based information for crowdsource mapping benefits the emergency response community and disaster risk reduction?

This is the key question that specialists around the world will attempt to answer during the Expert Meeting being held in Geneva, this November, which is being held to coincide with the International Conference on Crisis Mapping.

The Expert Meeting is a fundamental part of the programme that is being organized by the United Nations Platform for Space-based Information for Disaster Management and Emergency Response (SPIDER). The SPIDER program was established by the United Nations General Assembly with the mandate of ensuring that all countries, international and regional organizations, have access to space-based information, and to ensure they develop the capacity to use all types of space-based information to support the full, disaster management cycle. This includes the need to ensure that space-based information supports the crowdsource mapping efforts for the benefit of the disaster community.

The meeting will focus on exploring the different ways that the space technology community can collect, organize and provide greater access to its information and how it can better coordinate the communities through which it crowdsources information.

Some of the issues the experts are talking about:

1. Disasters are increasing

First of all, making the issue particularly important is the indisputable fact that the number of disasters is on the increase and that the impact of disasters is becoming increasingly more severe on a global level, requiring hightened efforts by multilateral organizations to better manage their consequences.

The UN Secretary-General, Ban Ki-moon, said recently that climate change is a real threat to international peace and security. He urged developed countries to lead the global effort to find ways to both mitigate and adapt to the detrimental effects of disasters but also said that emerging economies must shoulder their fair share of the responsibility and take necessary actions.

"Extreme weather events continue to grow more frequent and intense in both rich and poor countries alike, not only devastating lives, but also infrastructure, institutions, and budgets – an unholy brew which can create dangerous security vacuums," said Mr. Ban.

Achim Steiner, the Executive Director of the UN Environment Programme added that humanity was at a point in its history where it has the capacity to fundamentally alter, within one or two generations, the conditions on which societies have evolved over millennia.

"It is the speed of environmental change, including climate change, that will be increasingly at the heart of our collective concern and response," said Mr. Steiner. "There can be little doubt today that climate change has potentially far-reaching implications for global stability and security in economic, social and environmental terms which will increasingly transcend the capacity of individual nation States to manage," he added.

Mr. Steiner also said that the international community's ability to manage the consequences of climate change will depend on a "proactive strategy of evolved and perhaps new international platforms, mechanisms and institutional responses" which anticipate security concerns and facilitate cooperation.

2. Crowdsource communities are working hard

Secondly, it is important to understand that an essential part of working to provide support to disaster preparedness and emergency response efforts is carried out by thousands of people around the world linked to NGOs, government or multilateral agencies and, in many cases these communities of contributors are volunteers.

In recent years, advancements in technologies have made it possible for platforms such as OpenStreetMap, Ushahidi, Sahana, CrisisMappers, Virtual Disaster Viewer, Google MapMaker and INSTEDD to operate by being directly linked to communities around the world.

OpenStreetMap


OpenStreetMap is a free editable map of the whole world. It is made by ordinary people and allows to view, edit and use geographical data in a collaborative way from anywhere on Earth.

Ushahidi



Ushahidi is a non-profit tech company that specializes in developing free and open source software for information collection, visualization and interactive mapping.

Sahana


The Sahana Software Foundation is dedicated to the mission of saving lives by providing information management solutions that enable organizations and communities to better prepare for and respond to disasters.

CrisisMappers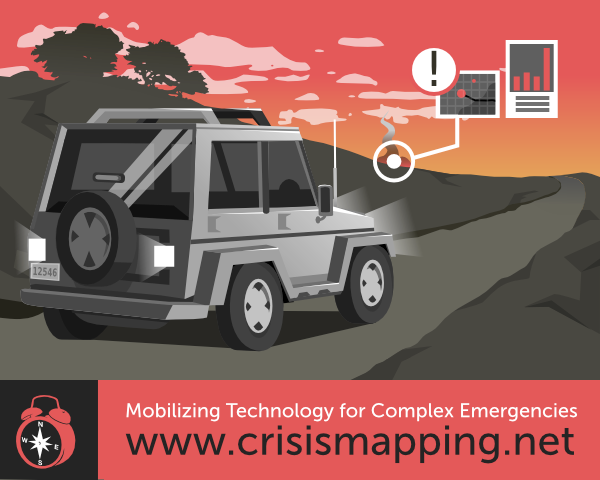 The International Network of Crisis Mappers is the largest and most active international community of experts, practitioners, policymakers, technologists, researchers, journalists, scholars, hackers and skilled volunteers engaged at the intersection between humanitarian crises, technology and crisis mapping.

Virtual Disaster Viewer


Virtual Disaster Viewer is a kind of "social networking tool" for earthquake impact assessment, developed by an international consortium, including The Earthquake Engineering Research Institute.

Google MapMaker



Google Map Maker allows any person to add and update geographic information for millions of users to see in Google Maps and Google Earth. By sharing information about the places each person know, like businesses in town or places on school campus, it can ensure the map accurately reflects the world.

InSTEDD



Innovative Support to Emergencies Diseases and Disasters designs and uses open source technology tools to help partners enhance collaboration and improve information flow to better deliver critical services to vulnerable populations.

Important cornerstones of this virtual effort are the possibility to access and take advantage of post-disaster satellite imagery as well as the use of other space-based technologies such as telecommunications satellites and global navigation satellite systems.

3. The gateway to space-based information is opening

Thirdly, taking note of the need to connect these pioneering communities with the space industry as well as the disaster management community, the UN-SPIDER Programme is carrying out a one-year project Space-based information for Crowdsource Mapping aiming at identifying specific actions that could ensure a closer cooperation among the three communities.

The UN-SPIDER programme is focusing on being a gateway to space information for disaster management support, by serving as a bridge to connect the disaster management and space communities and by being a facilitator of capacity-building and institutional strengthening.

See the UN-SPIDER promotional video:


UN-SPIDER is being implemented as an open network of providers of space-based solutions to support disaster management activities.

Working together to mitigate effects of disasters

This is work-in-progress, a huge effort to gather critical information that can be used to save lives. During the Expert Meeting in Geneva, around 70 leading experts representing crowdsource communities, space and remote sensing agencies, disaster management communities, NGOs, private companies, and regional and international organizations will meet to find the answers to the questions being raised.

If you are an expert currently working in any of the relevant areas (disasters, crowdsource mapping, space-based information) you can still apply to attend this meeting through the cut-off date of 30 September. Alternatively, if your organisation would like to cooperate in the Space-based information for Crowdsource Mapping Project you can contact Teresa Kokaislova.