Over the years, a great deal of media attention has focused on the plight and turmoil faced by nations on the African continent. Yet a new crowdfunding platform aims to tilt the balance of coverage in order to portray the African people in their best light through the power of their lyrics, expressions, dialects and the message that transcends from their music.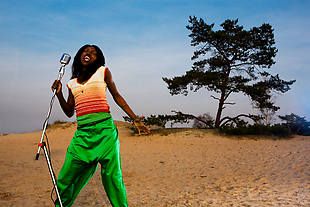 Africa Unsigned , founded by Pim Betist , is a crowdfunding platform that aids local artists by taking on the challenge of music production and promotion. This is achieved once the targeted budget is reached through the small amounts of monies that are given by fans and supporters via the website's platform. Betist previously founded Sellaband , a popular creative crowdfunding site that was the first to adopt a crowdfunding model to assist budding musicians.
Betist saw the need and opportunity to create Africa Unsigned after a casual conversation with a Jamaican taxi driver revealed that Sellaband's model was not open to artists in developing countries who were unable to create uploads of their music in order to get the necessary funding from fans. This niche prompted the launch of Africa Unsigned in 2009 and as a result, talented artists from all over Africa now have the chance of getting their labels produced and promoted as well as to learn more about the music industry. Recently, Crowdsourcing.org caught up with Betist to find out more about Africa Unsigned.
Crowdsourcing.org: Although the inspiration to create Africa Unsigned came from a Jamaican taxi driver, why did you decide focus on African artists?
Betist: There is a lot of variety and diversity in African music that has not been tapped into by the international music scene. African culture is full of customs and traditions that are powerfully conveyed through music. Most importantly, I believe talent should not be stifled due to financial barriers and so Africa Unsigned was created to prove that budding African artists can indeed play an important role and make an impression on the world music scene. This is facilitated through the collaborative financial support from fans across the globe.
Crowdsourcing.org: How does Africa Unsigned help these artists excel?
Betist: We have a panel of 30 music industry experts, balanced between those that know the African and European markets and talent, and successful African musicians. These experts make selections based on the authenticity, lyrics and overall quality of the artists. Once the musician is selected, then he or she will receive our assistance through workshops and promotion to make them even more visible. Our promotion team will work with them to ensure that they are able to raise their recording and promotion budgets ranging from $2,500 to $10,000. We also take care of building their profiles in order to make the artists more marketable. Once they have raised the budget and released their music, they will have the opportunity to raise additional funds through our platform, again with the assistance of fans and supporters.
Crowdsourcing.org: We know that you founded Sellaband and that you decided to adopt a different model with Africa Unsigned. Can you explain the difference between the two platforms?
Betist: Despite having the same founder, Sellaband and Africa Unsigned are different businesses. Through the Africa Unsigned platform we work closely with a small group of artists with the sole intention of enabling them to reach the spotlight and to receive the necessary funding to propel them from just singing to a local audience to a wider international audience. Sellaband solely relies on the wisdom of crowds when filtering the quality of the artists on their platform. This has the implication that there is a greater obligation on the artist to promote themselves online. It also has the downside that visitors might not find the quality they are looking. There are more differences and you are interested, I have given an extensive interview to Wired about this topic. You can find it here.
Crowdsourcing.org: What are you offering these artists that aren't being offered by other platforms such as Sellaband?
Betist: Personal guidance, training, a stamp of approval and a much higher degree of involvement powered by a passion and love for The New African Sound.
Crowdsourcing.org: What are the music genres that are most popular and that immediately get funding on Africa Unsigned?
Betist: The success of an artist on Africa Unsigned is not caused by a specific music genre but by the activity of the artist and his or her ability to learn from the social networking trainings that we offer.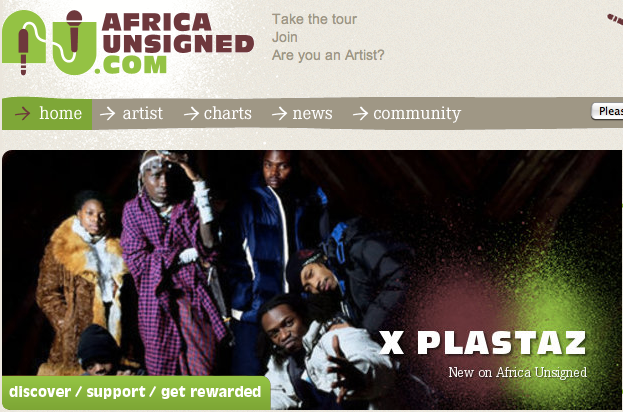 Crowdsourcing.org: You are currently targeting seventeen artists in Africa. Why have you decided to limit the number of artists?
Betist: We want to work closely with the artists that pass the selection stage, and allocate our resources carefully on helping them succeed.
Crowdsourcing.org: Do you intend to expand the number of artists you are supporting in the near future and if so, how will you continue to maintain quality control?
Betist: Good things take time. My experience with SellaBand has shown me how important it is to value quality over quantity. We will expand the amount of artists and countries on our platform, but only when we feel ready. When are we ready? Stay tuned and find out!
Crowdsourcing.org: What would you say to artists that have not made it through the selection?
Betist: We focus on a very specific group of young African musicians whom we have dubbed "the new african sound". If you're music doesn't fit in this category it doesn't mean you are not talented.
Crowdsourcing.org: Why did you choose to use crowdfunding as your business model for music promotion and production?
Betist: The traditional business model of a record label is like throwing ten pancakes against the ceiling and hoping that one of them will stick, making up for the nine that fell. This model worked well back in the eighties when record labels still controlled their distribution channels. The model is now completely outdated and it's causing profits to plummet, leading to less budgets for the development of artists each year. Crowdfunding provides us with a perfect alternative for budding musicians, because it allows musicians to reach a large amount of fans and get the necessary support to launch a successful career.
Crowdsourcing.org: How is Africa Unsigned performing in comparison to other crowdfunding music websites ?
Betist: It is difficult to make a comparison with other crowdfunding music websites because we handle a completely different approach in terms of selection and promotion. If you look at the content that we have produced and featured we are doing better than most DIY crowdfunding platforms. Muthoni the Drummer Queen was nominated for the MTV music awards in Africa, Mokoomba and Gregor Salto were playlisted by DJ Sinden for a Nike podcast. Sauti Sol tied with Nigerian P Square for the award of Best Group, while Just a Band scooped the Record of the Year Award for the song Usinobore off their latest album 82.
Crowdsourcing.org: Who benefits from using Africa Unsigned?
Betist: There are many levels in beneficiaries of Africa Unsigned. The most obvious are our supporters and artists. Both benefit from the experience: the former from the promotion and financial return, the latter from the satisfaction of funding music, receiving exclusive high quality content and the possibility of seeing an artist's growth. The connection between artists and supporters also leads to high quality content which is consumed by many music fans across the globe. Our first release for instance was a collaboration between DJ Gregor Salto and Zimbabwean band Mokoomba. Their track was playlisted on urban radiostations and the videoclip has been viewed close to 100.000 times on YouTube. When an artist or supporter decides to use Africa Unsigned, both benefit from the experience: the former from the promotion and financial return, while the latter also from the financial return, but also the satisfaction of funding music and possibility of seeing an artist's success.
Crowdsourcing.org:How has the response been from the online community?
Betist: We have received a lot of interest from kindred spirits like 22Tracks.com, AfricaHipHop.com, Thisisafrica.com, Addistunes.com, and Akwaabamusic.com just to name a few. Our common denominator is the love for the New African Sound and music in general. We've done research amongst our existing community and found out that their core reason to be part of our platform is the high quality of our music. We see this feedback as a huge compliment both for our artists and for our music panel.
Crowdsourcing.org: Do you have any other plans for any other music markets?
Betist: Sure we do, but first things first!
Pim Betist author of blog Crowd Funding – As we learn, we share and Founder of Africa Unsigned, also created online label SellaBand, attracting music fans to invest and empower unsigned artists. More than 3 million dollars were invested in unsigned talent and around 50 artists "crowd funded" $50,000 to record and release their album. Nominated Dutch Direct Marketing Man of the year in 2008 and won the title of best speaker at MIA, Holland's largest marketing conference in 2008. Listed in Management Team as one of Holland's top 25 creative business people in January 2010.