Crowdsourcing is often embraced as a model for open innovation to introduce ideas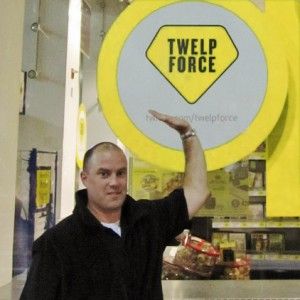 and influence change from outside the organization. To find out more about how leading companies are using crowdsourcing as a model to drive competitive advantage, I spoke with John Bernier, a Manager within the Emerging Platforms group at Best Buy, and former lead of Best Buy's Twelpforce initiative, their innovative service that empowers employees from across the country to answer customer questions in real time via Twitter.

Best Buy has been in business for 45 years but most companies that have been around for that long are dealing with issues of old cost structures, legacy organizations and "not-invented-here" mentalities that encumber innovation and stifle change. For these firms the greatest challenge is how to invigorate and transform their organization.

At Best Buy, however, their challenge is a very different one – with 180,000 staff members and millions of customers that aren't shy to tell Best Buy what it needs to do better- the challenge is not in generating ideas but more an issue of how to sort and prioritize them. Best Buy has all the attributes needed for an "always full" innovation funnel: their employees are young and they live and work in a high-tech world -- nothing moves faster than consumer electronics! As such, Best Buy doesn't measure itself on its ability to generate ideas but rather on how good it is at acting on them and how much better it does at converting these ideas than its competitors.

Organizationally, Best Buy has two special units that are central to their innovation process. One group focuses on data mining and the other focuses on drawing insights from this data. This works well for Best Buy as it allows for different skills and processes to be applied at each stage. Data in huge volumes is collected and processed from multiple sources including contact centers, web properties and social platforms. This data is then analyzed to identify things within Best Buy's operations that need to be fixed, as well as developing insights into trends and customer needs. Once the data is collected and processed it is then analyzed with the objective of interpreting trends and developing insights that shape and direct future initiatives.

It won't be a surprise that Best Buy's call center operations and data analysts are getting very good at identifying problems and getting them in front of the business owners who are responsible for fixing problems. The mindset, analytical skills and tool sets needed to identify opportunities is, however, an emerging discipline, which Bernier acknowledges, that Best Buy is still developing an acumen around.

One of Bernier's latest projects was to oversee Twelpforce, which launched in July 2009 and Bernier then ran for two years. A great example of an innovative move by Best Buy was to adopt the Twitter platform to directly connect hundreds of employees with customers to enable real time customer support and in Bernier's words "Share all we know, as fast as we know it". While the numbers of queries that are received via Twelpforce are still small in comparison to the number of inbound calls received by the contact centers, it clearly was a clever move 180 degrees away from traditional models for customer support. I asked how Best Buy addressed concerns over quality and responsiveness and Bernier answered that initially, they weren't sure what was ahead of them. Over time, he said they found that with some good foundational guideposts and training tools, the crowd began to self-organize and govern itself. Leaders in the space popped up as coaches, or mentors - and pretty soon they had a really good support network in place. If you weren't aware, Best Buy's current Social Media Policy is a simple, one page document that basically says; "Be Smart, Be Human, Be Yourself".

Within Best Buy the Emerging Platforms group was formed less than three years ago with a special mandate for exploring new ways of growing the business. Best Buy's philosophy is to allow the free flow of ideas and data from within the organization and from outside. If an idea is generated that is deemed to have potential, the Emerging Platform group (working with the appropriate business unit) is then responsible for building out prototypes (minimum viable products), and running with the initiatives as far a s possible before either scuttling the project, or determining that the project should move forward to become "business ready", and then handing over operational responsibility.


A great example of this was Best Buy's IdeaX platform. Formed in the summer of 2009, IdeaX was a platform built upon learnings taken from another experiment called Blue Shirt Nation. Blue Shirt Nation was one of the early social experiments that Best Buy built internally aimed at connecting employees from around the country so they could talk to fellow workers that resided beyond the brick and mortar boundaries that had previously caged them. IdeaX was a natural next step that formed out of this initiative to extend the outreach and invitation to connect to Best Buy's customers and shareholders.

I asked Bernier if IdeaX was designed as an open idea platform or as a platform to build connection with customers and was assured that the social connection formed as a byproduct of open innovation. When asked how successful IdeaX had been Bernier's described it as indeed successful and a great example of how generating ideas and feedback is only part of the equation – processes to filter, prioritize, assign and act and follow-up in a timely manner are critical to the implementation of an end-to-end process that ensures that the best ideas are monetized. A further challenge has been maintaining the momentum with IdeaX, as with all innovative ideas since people get bored if the model doesn't remain innovative.

Another focus area for Best Buy is the opening up of Best Buy's API's for internal and external consumption (www.bbyopen.com). The Emerging Platforms leadership team are developing new partnerships with companies who are integrating Best Buy's API's into their platforms. Through these types of partnerships, consumers are able to make purchases within another platform (using rewards points to redeem, for example) without having to leave the app, or web environment.

I asked Bernier what's next for Best Buy and how the innovation envelope was going to be pushed further. He replied "maybe opening Best Buy's social data and sharing it with the community to analyze" – why not, that worked for Gold Corp!