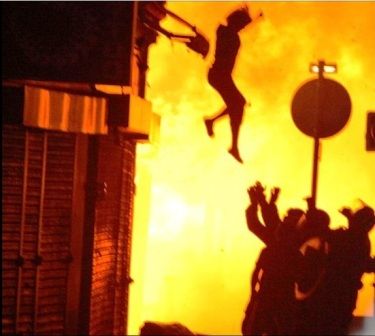 While the rioting and looting that convulsed parts of London last weekend spread to other parts of the UK on Monday, The Guardian newspaper enlisted help from the crowd to catalogue and portray to the destruction caused by uncontrolled groups of youths.

"What have you told us so far about the events over the weekend?" asked the newspaper to its readers.

What started as a gathering of around 200 protesters demanding answers over the death of Mark Duggan, who was shot dead by police on Thursday August 4th, culminated in a full-scale riot that spread across north-London suburbs and subsequently to other parts of the country, including the UK's second largest city, Manchester.

"On Sunday, we began asking Guardian readers what they'd seen in Tottenham on Saturday night, and why they thought the vigil held for Mark Duggan escalated into rioting and looting", wrote James Ball, a data journalist working for the Guardian investigations team. "This work had been used to complement and feed into work carried out by our reporters on the ground".

"Thanks to live reporting and tweeting from reporters and eyewitnesses, a clear picture of what happened, and its aftermath, is rapidly emerging", explained Mr. Ball. However, he added, "the only people who can really shed light on why the riots took place are those who rioted, their friends, families and neighbors".

To that extent, freelance journalist and technologist Kevin Anderson suggested a repeat of a seminal experiment in data journalism and social science, performed in the wake of the 1967 Detroit riots, a six-day breakdown of law and order which left 3 dead, hundreds injured, and 7,000 people arrested.
Repeating a project on such a grand scale is problematic, Mr. Ball had written. The Detroit riots of 1967 were on a considerably larger scale than those seen in London, and were the latest in a series of race riots across the United States.

According to Mr. Ball, a full-scale repeat of the pioneering study seems unlikely. "So we are looking instead at what might be gained from emulating the approach even on a more modest scale. Reporters on the ground are doing what they can to ask as many participants as possible why they took place in either the protests or subsequent riots, rather than just asking what they saw".

In other front, Paul Lewis, Special Projects Editor, had started to source Blackberry Messenger broadcasts, which had been useful in providing real-time updates and predictions about future incidents.

"As the Guardian has been reporting, it's clear that much of the unrest is being organised using BBM, which is a PIN-protected instant message system that is only accessible if you use a BlackBerry", wrote Mr. Lewis.

According to him, the newspaper has been cautious not to publish "live" messages that appear to anticipate violence. "But we have published a number of historical messages, to show how events had developed".

Both initiatives were connected with the work of The Guardian team on the street and in newsroom, boostering the area of coverture and the consequent comprehension of the facts.

To keep the news in context on its website, The Guardian uses a blog that updates automatically every minute -- The Guardian London riots: the third night – live coverage -- mixing official information collected by its team, with twitters, bloggers, videos and records sent by the crowd.

It is, however, a work in progress and The Guardian editors are asking for innovative ideas. They want to know what other data-driven or crowdsourced approaches can they use to cover this type of story?


[Photo Credits: The BBC]