Cloud Shopper is one of the newest crowdsourcing websites that may just revolutionize the online shopping experience. Launched on December 15, 2010, the new kid on the block adopts the slogan "Everything is better with Friends" and uses this concept to create an interactive solution for users who are invited to Crowdsource the views of their friends. Cloud Shopper enables visitors the ability to connect with their Facebook friends to get their opinions about different products available through Amazon that they can then purchase through the site. Instead of relying on reviews about products from anonymous people or wrestle with claims that could be far from the truth, Cloud Shopper's users will experience a more personal shopping experience by being guided by those that matter the most: their friends.
The "Everything is better with Friends" concept that the website uses to reach online users and potential shoppers is not a far cry from the philosophy that Facebook adamantly defends. The creation of a user-friendly platform that allows opinions to be exchanged and shared by people one knows and trusts without the use of keyword rich reviews and sophisticated, but impersonal computer algorithms that select recommendations overrides bait information. This in turn guarantees information that real people provide, thus making online activities anything but mechanical and shallow.

The website is currently in its "lite beta version", but offers a number of features that users can currently test to see how they can be incorporated into their shopping plans. The ease of navigation is clearly seen in the simple search bar that allows users to type the keywords of products that they are interested in buying. The user is then presented with a list of products and four general options for each which are: "Buy", "Ask Friends", "List" or "Recommend an Alternative". If the user decides to "Buy" the product without consulting friends then he or she will be taken directly to Amazon to finalize the purchase.

However, if the user prefers to "Ask Friends" then a tab will appear to write a comment asking friends about the product. This will be posted to the user's wall on Facebook and from there it will be possible to get feedback directly from Facebook friends. If the option "Recommend an Alternative" is selected, then the user will be presented with a search bar to type the specific product or products that he or she finds interesting. Once this is completed, it will be possible to leave a comment about that product and post both recommendation and comment to the member's Facebook wall.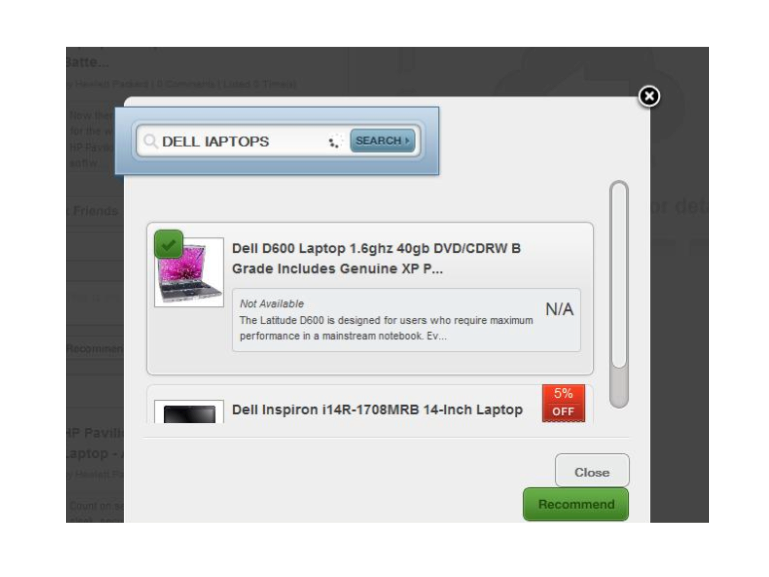 Cloud Shopper also allows users to create lists, highlight favorites, view list of friends and monitor recent activity. According to Mashable.com, the new website intends to install a feature in future weeks that allows users to solicit advice from specific friends instead of sending a post to just about everyone that appears on one's Facebook contacts list. This in turn restricts the amount of feedback that is given and makes the whole process of crowdsourcing a bit more personal instead of the "all for one" concept on other platforms.
There are also additional features on the website that allow users to search and see relevant information such as other articles, reviews and videos about the product they are interested in from sources such as: Digg, Yahoo! News, USA Today, YouTube, Twitter and Flickr. Additional information can also be found about the product by clicking "Buy" to see specifications, details and reviews on Amazon.
Cloud Shopper's use of Facebook is likely to be a clever response to fine tune an evolving money earning channel, a main tenet of the social networking website's monetization strategy. In a recent article in Wired titled the "Great Wall of Facebook: The Social Network's Plan to Dominate the Internet — and Keep Google Out" Fred Vogelstein, argues that Google's failing concept of information sharing has been the pedestal on which Facebook has shined and marketed itself to provide internet services that are more personalized instead of code based. Facebook made the 'big bang" discovery first that their user's online experience is tailored according to specific preferences to reveal certain types of information while enjoying friendlier online interaction. Facebook now has an envied advantage over Google based on the amount of information they have about users. Many people that use Facebook do not bother to put on a mask or hide behind anonymity--instead they use their real name, age, occupation, etc.
By targeting the world's largest and most loyal online community and matching users with the world's largest online shopping and fulfillment marketplace Cloud shoppers narrowly focused strategy may not actually be so narrow minded – however there in lies the risk.
While Facebook founder, Mark Zuckerberg, may have tapped into the art of sentimentalism and respected user privacy this does not mean that Cloud Shopper's use of his website will bring in millions in online shopping. The company will have to overcome the hurdle of allowing users to reach friends in real time, since Facebook has been blocked by 16% of companies that use DNS. For example, such is the case in Germany where certain companies are banning the use of Facebook. This leaves Cloud Shopper with the difficult task of reaching the 200 million mobile Facebook users or reaching the many that log into their accounts during their coffee break, lunch break or while at home. At the present moment the website does not have a cell phone application which leaves its earning potential to "when" friends decide to provide feedback about a certain product.
Another issue that also comes into play is Amazon's tracking cookie which in the past has been heavily criticized by many for its one day duration. If Cloud Shopper does not have any other outside agreement than the one Amazon offers to its associates regarding its tracking cookie, then the 24hour follow through is applicable. This will not affect Cloud Shopper's users in anyway, but users that are unable to make a decision about a certain product within 24hrs will not bring monetary value to the website. Technical products and products that friends have never used will require more than just an opinion. In this case the user will then be forced to do research using Google or ask friends to research information about the product. In essence, this might attend to the slogan's claim: "Everything is better with Friends", but then it defeats the whole purpose of trying to be personal and not rely on anonymous reviews.