Crowdsourcing.org founder Carl Esposti today discussed enterprise cases of crowdsourcing — and its unique case history in the Indian outsourcing model — at San Francisco's CrowdConf2011. Below is an abbreviated account of Esposti's remarks during the plenary lecture, which preceded the breakout session on identifying enterprise crowdsourcing opportunities.

In 2008, I learned that organizations had figured out that traditional organizational structures sub-optimized the workforce. The best ideas, if you're smart or lucky enough to hear about them, come from unexpected sources. Exceptional knowledge exists within the enterprise, but it's buried – if you rely on the deployment of traditional management systems you'll never identify it, harness it or deploy it!

There's an expert somewhere for everything but the chances are if you continue to look in the same places you'll never find them. Latent capacity exists within the enterprise but it's untapped – abundant capacity exists within the globally connected digital workforce but new systems and processes are required to connect and deploy it. Enter crowdsourcing.

At CrowdConf2010 we launched Crowdsourcing.org and a lot has happened in the last twelve months. We wanted to establish a focal point for the industry:

- To establish a platform for the providers of crowdsourcing services to help you reach your audience
- To provide resources and support for academics and researchers to help you study crowdsourcing models and practices
- To publish the most insightful content on the subject of crowdsourcing and crowdfunding models
- To help enterprise buyers understand how to evaluate and deploy crowdsourcing solutions and find providers

We launched our first major research initiative via the platform about four weeks ago and will be reporting before year end on the shape and size of the Cloud Labor segment of the crowdsourcing industry – see the Crowdsourcing Industry Survey banner on our home page. We've had a tremendous response with submissions from nearly all the major providers. We will be following up the first research survey shortly with initiatives addressing other crowdsourcing and crowdfunding categories.

There is no question in my mind that crowdsourcing is a provocative model that will re-shape and augment more established forms of sourcing. It's not a matter of 'if', but rather how large a disruption will amass — and how quickly.

While the model seems new, it has much in common with more established models — and as such, we have case history that we can learn from that will help us accelerate the wholesale adoption of crowdsourcing.

Let's take a look at the outsourcing industry in India. How the Indians conquered outsourcing is a model we can replicate to establish the broad adoption of crowdsourcing. Back in the 1990's, the Indian outsourcers weren't considered as competition for the large national or global ITO and BPO providers. While the larger players were competing for transactions in the tens or hundreds of millions in annual contract value, the Indians were winning pitiful contracts — a million here, two million there — so small they were off radar.

In the beginning, every year the total contract value secured by Indian providers was so small, nobody paid attention. What happened, however, was a million deal in year one became a five million dollar deal upon renewal, which then became a $25 million dollar deal after that — representative of their strategy of penetrate and radiate. Small became aggregated, and over time, aggregated became large.
We have many things for which to thank the Indians, the first being their catalyzation of workforce globalization. They have introduced the use of offshore centers as integral to the delivery models being deployed in every major enterprise.

The advent of offshore delivery models and the subsequent maturing of the market and technology enabled work and workers to be separated — even in tightly regulated markets like financial services, where data privacy and protection is paramount. They have figured out how to send the work of thousands of workers to India, Manila, Costa RicaPoland, and other global service delivery centers, proving that the security and privacy concerns (along with geopolitical risks) can be successfully mitigated. It paved the way for crowdsourcing to become the next competitive lever, reducing worker costs through labor arbitrage. Meanwhile, effectiveness is bolstered with the rapid on/off deployment of workforces able to perform basic to expert tasks.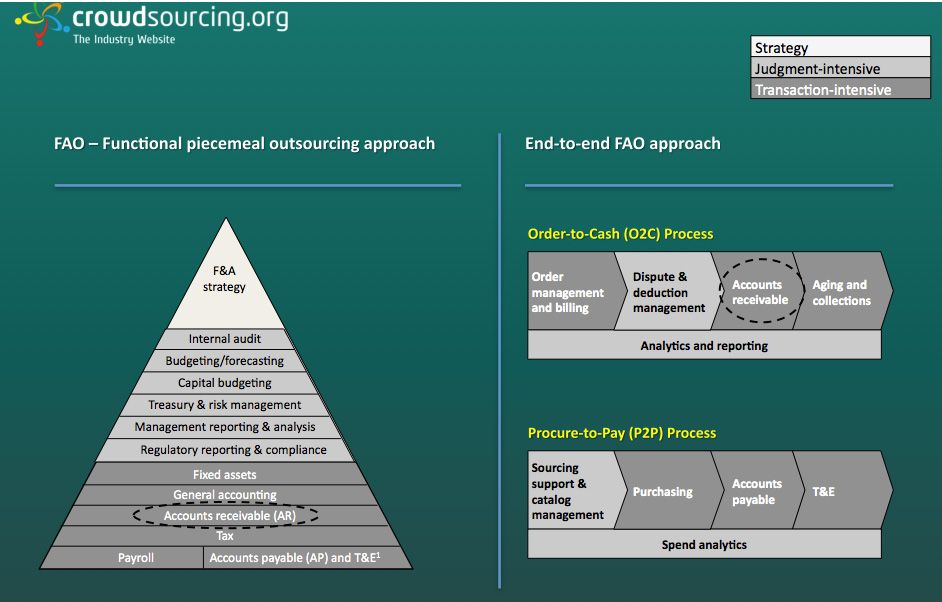 This brings us to the second thing we have to thank the Indians for: they helped multiple industries better understand their core processes and workflows. The Indian outsourcers didn't embark upon a strategy of broad execution; instead, they focused on narrow scope and they became expert in the proficient delivery of specific processes and sub-processes.

They also drove the formation of new workflows. In outsourcing, these are end-to-end processes. Instead of 'Accounts Receivable' being seen as a stand-alone F&A transaction process, for example, it became an integral step in the 'Order-to-Cash' process. Again, this has paved the way for the re-engineering of processes in order to integrate a crowd workforce into enterprise processes as the ROI is established.

The third major point of reflection is in regards to how the model for Indian outsourcing has changed has over time. If we accept and embrace this model, it fundamentally changes the way we build our delivery model, develop our capabilities and go to market.

In the earlier years — in much in the same way that the bulk of the crowdsourcing industry is approaching the market today — the providers approached the market market with capacity. 'We have Indians in call centers' sounds the same as 'we have 100,000 workers in 50 countries' — theis issue with this today is that enterprises don't buy capacity because capacity is about input. Enterprises buy output. Selling access to thousands of crowd workers is turning the clock back 10 years in terms of how enterprises think about workforce.
Initially, the Indian providers sold work by the hour by day, in the same way much of the crowdsourcing work being performed today is project-based: translating archived records, building online catalogues, cleansing database records and so on. Every one of these projects has a beginning and an end, which creates an additional issues: they require disproportional set-up costs, they are not easily leveragable and they have to be re-sold. Closely associated with a project-based selling model is the issue that projects are often funded via CAPEX budgets; they require special approval and sign off and are often subject to stringent governing procurement rules.

As soon as the Indian providers worked out how to change the game… well, the game changed. They figured that they sold more when they sold capability and aligned it with ongoing enterprise needs, such as the need to acquire or deploy new capabilities. Iinstead of saying, "we have capacity in call centers that can handle your project," they sold the capability to deploy qualified experts that could shorten the 'Order-to-Cash' process.

They helped define work in the form of business processes and identified how they could integrate their capabilities into the processes. They became an integral part of the day-to-day operation, no longer at the mercy of CAPEX approvals but funded out of operating expenditure, approved once for a multi-year contract.

This was a challenging task for companies that used to price their services per man-hour. They had to change their pricing to output-based price per invoice, per managed server, per purchase order, etc. It is interesting to point out that we — the crowdsourcing industry — are already there. Most of you already price your services per task, per article, per processed page, or any other measure of output.

Nonetheless, one of the greatest challenges the crowdsourcing providers are facing today is to change the nature of the value proposition and the sale — away from people that can perform tasks to capabilities that can be deployed to improve business processes.

See here for part two of Esposti's discussion, which discusses research on enterprise crowdsourcing Use Cases.