Crowdfunding, the latest way for start-ups to raise capital in order to launch their products/services, has enjoyed quite a bit of attention recently. Instead of looking for angels and investors to plough large sums of money into their businesses (and be eligible for a percentage of the exit sum when the company has future liquidity events or IPOs), many would-be entrepreneurs are taking the crowdfunding route. This makes great sense in many ways, one of the most important being that the company founder(s) maintain total control over the business, allowing them to adhere closely to their original ideas and visions.
I first came across the concept of crowdfunding a couple of years ago when I discovered Kickstarter and watched a short video made by the guys who were trying to launch the social network Diaspora, a viable alternative to Facebook that allows users to maintain full ownership of their content. I was so impressed by the enthusiasm of the group and the initiative shown by these really young guys (and the fact that I have children of a similar age) that I donated to the project. This made me wonder what makes other people donate to crowdfunded projects.
CABARET – GETTING IN ON THE ACT!

In my quest to interview others about their motivation for contributing to crowdfunding initiatives, I was lucky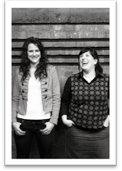 enough to speak with Maeve Marsden, pictured on the right with Phoebe who is using IndieGoGo to raise money to take a cabaret act, Lady Sings it Better, to the Edinburgh Fringe Festival. Maeve is the artistic director of this six-woman group that "takes on the greatest male musicians of the 20th century and reinvents them as sassy old-school cabaret. It's Midnight Oil, AC/DC, Nine Inch Nails, Leonard Cohen, Queen and the Rolling Stones as you've never heard them before; masculinity mixed up in sultry female vocals." The act has a YouTube channel where fans can watch videos of performances.
Based in Sydney, Australia, Maeve says that she chose IndieGoGo when she was setting up her campaign as she thought Kickstarter was only for U.S. campaigns. She knew that IndieGoGo had been used successfully in Australia and opted to use the website. After doing all the work of posting the campaign, she discovered Pozible, dubbed "Australia's No.1 crowdfunding platform for creative individuals, groups and organisations."
Although the Lady Sings it Better project is halfway through their campaign, they haven't yet raised 50% of the money they will need for the trip – Maeve says that the donations haven't been as they expected. She'd anticipated that "loads of friends and fans would donate $10, creating critical mass," however, they have received fewer donations, but for larger amounts. The average donation is $60.

GIVE AND TAKE IS THE NAME OF THE GAME

Far from being "on the take," Maeve has donated to projects organised by friends of hers, both to show support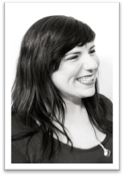 and because she believes in their talent and ability. While working on the Lady Sings it Better campaign, she's come across other campaigns on the website that have matched her interests – "they're by strong women artists or queer talent," or fellow cabaret artists. So far, she's donated to ten campaigns this year and thinks "it's important to practice what you preach."
Usually Maeve is moved to make a donation by the pitch or the concept presented and, as her work involves performing, producing and directing for gay and female cabaret acts, those are the projects to which she's most likely to donate. She finds acts by following links from Facebook and Twitter and also by checking out the profiles of people who donate to the Lady Sings it Better campaign in case they are running a campaign that interests her.
Maeve first came across the concept of crowdfunding being used by an Australian band, the Jane Austen Argument, a "Melbourne-based indie cabaret noir duo who combine raw ballads and sharp tongues with chaotic abandon and overtones of anti-folk and punk love." This was her first ever donation and she realized immediately that crowdfunding could be a brilliant method of raising the money needed to take Lady Sings it Better to the Edinburgh Fringe Festival. It will be quite an expensive undertaking, with money needed for flights and accommodation. Maeve thought that crowdfunding would give the act a headstart on the long road to Edinburgh.
When I asked Maeve about the incentives that are often promised by projects using crowdfunding as a method of raising money, she dismisses them as not being important:
"I don't think that's what it's really about. Not for me, anyway. I fund projects because I think the creatives behind them deserve support. [But] I see some campaigns where none of the perks have much value — for example a hug for $50 — and I think that's a bit ridiculous; you have to offer something."
I wrapped things up by asking Maeve if she has anything to add on the subject of crowdfunding and she responded with:
"Donate to our project! Seriously, though, it wouldn't hurt everyone to hop on a crowdfunding site once a month and donate $10 to someone they've never met. I know how exciting it is when the email notification comes through saying another donation has been made, so I'm pleased when I can do that for some random artist on the other side of the world. It's artists paying it forward and it's awesome!"
Her enthusiasm is boundless and it's clear that she, along with many other people who are using crowdfunding as a way of raising the money needed to realise their dreams, see it as a two-way street – you should give in order to receive.

PLAYING IT COOL

To find others who would talk to me about their motives, I posted requests in groups on LinkedIn (and tweeted the posts)!



One of the responses came from Denzil Monk, producer and social entrepreneur. Over the past decade he's produced hundreds of shorts, a number of features and has been active in the film industry in Cornwall, England. In 2010, he was honoured by being made a Bard of the Gorsedh Kernow for his services to Cornish filmmaking. He's the Cornish representative to the Celtic Media Festival Board. He's also been active in developing media tools, designing college courses in digital storytelling and filmmaking, and is a visiting lecturer at Cornwall Skillset Media Academy.

Denzil got involved in crowdfunding for several reasons – he's interested in how people act collectively in order to achieve goals and thinks that this is a great way of democratising. He considers the process of crowdfunding fun, engaging and interesting and reckons that there are many exciting ideas which deserve support being proposed by dynamic people.

Denzil recently used the crowdfunding model to raise £10,000 for post-production on a feature film that he's producing with a friend called Weekend Retreat. He's donated via the wefund website to the Parabola Project, a bid by one of his colleagues to publish new writers. He's also donated to BUYACREDIT.COM – a project that aims to raise money needed to produce the movie "Clovis Dardentor" (based on a Jules Verne novel) by selling its end credits – which allows donors to see their name alongside some of Hollywood's celebrities when the credits roll at the end of the film. As Denzil points out, this is a novel idea – the brainchild of a bunch of teenagers. More of Denzil's lucky recipients are "The Cosmonaut," a movie being shot in Russia, and "One Day on Earth," a Kickstarter project that has raised nearly double the amount of funding needed. Denzil originally intended to make a film contribution to the 'One Day' collaborative global film project, but missed the shoot day, so he offered a financial contribution instead.

It's pretty obvious that the projects that are most likely to interest Denzil are cultural – film, literature, storytelling, etc. – and he says that he's more likely to make a donation if he has a personal connection to the people organizing the project, if the subject or issue resonates with him, and the ideas involved are inspiring. Lastly, he does donate a larger sum if there is a possibility of a good return on the investment, as in "The Cosmonaut."

He usually finds projects to donate to by personal recommendation and by keeping an eye on a variety of crowdfunding websites, with e-bulletins from Buzzbnk, Wefund, IndieGoGo and Kickstarter.

Denzil first came across the concept of crowdfunding when researching collaborative storytelling for a web-based project – he discovered Age of Stupid and says he became mildly obsessed with the whole idea and the potential it offers for greater social equity. He's adamant that the incentives that were promised have been well worth the donations he's made. However, he does have some advice for those seeking crowdfunding for a project:
"Think very carefully about the contributors' motivation. If you're giving because you believe in a cause or issue, you might want less 'value' in the incentives because it's more important for the money to go to address the issue. For a creative projects you might want more creative, interesting, appropriate experience – e.g. in our Weekend Retreat campaign for £50 we emailed contributors a code which allowed you to enter a safe (flash animated) with 3 short films hidden inside. The safe features heavily in the film, so has a 'creative integrity' with the campaign. For investments, you might want the incentive to be based on a straightforward risk / reward equation."
He thinks that crowdfunding could potentially revolutionise the way creative works are commissioned, the way startup businesses are launched and the way we actually do business:
"In a brighter future that is pluralistic, inclusive, creative, global, connected… funding or sourcing from and playing with the crowd will become as normal as overdrafts, bank loans."
It's obvious that Denzil has taken the concept of crowdfunding very much to heart – he's a great ambassador for the process.
IS THIS THE FUTURE OF FUNDING?
So, for whatever reasons people donate to crowdfunding projects, this is a very social and exciting way of sharing the struggle when raising money. It's not just about the money – it's about spreading the word and allowing people to be involved in exciting new projects. At a time when people all over the world are calling for banking reform, crowdfunding is the funding of the future.