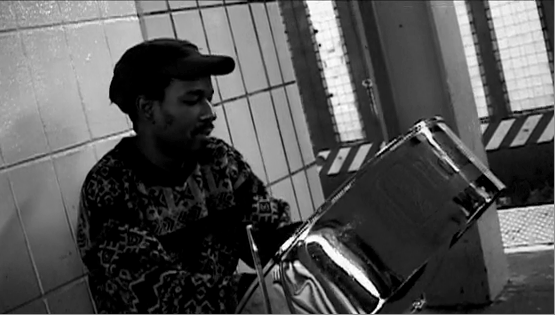 For anyone deciding to use crowdfunding to get their projects off the ground, a question ultimately arises: "What will help me fund it successfully?" The debate is on, and we've had a chance to talk about it with Matt Finlin. Matt is a young film director who has successfully funded his amazing documentary Below New York on Kickstarter last summer. As Matt himself calls it, Below New York is a "love letter, a personal essay" to New York and its great subway artists. Matt requested for $3000 to finish the shooting and the production of the documentary and within a little over a month the amount was gathered.
Egor: Could you tell us a little bit about yourself and how you got into making movies?
Matt: I am originally from Canada, I've met my wife abroad in France when she was studying and eventually we moved to New York. My educational background is not in filmmaking. I went to school for Psychology and Education, and I always wanted to make films. So I was teaching abroad, in Taiwan, actually, and made my first film there. Then I got a job in New York, working in film and so here I am. I've been here for two years now and just recently started my own company.
E: Could you tell us about the making of Below New York and your experience with crowdfunding?
M: I have been shooting Below New York on and off working on it in my spare time. It was a way for me to learn and refine my skills, and learn a bit more about the city along the way. Then I realized that I wanted to finish it but I needed some money and I needed a sound-mix, a website, had to pay festival entry-fees and so on. I've discovered kickstarter through some friends. I was a little bit nervous about asking people for money at first. But I didn't need a whole lot and it was a great way to bring an audience in before Below New York was finished and share the process of making the film with them along the way. Crowdfunding was a perfect way to raise money for the film and it worked out great. Even as I finished I can update people that have invested the money in me, show them little clips, trailers, invite them to screenings and keep them involved as I am completing the film.
E: Is there still interest among your Kickstarter backers?
M: Definitely! Kickstarter backers as well as complete strangers email me and say: "It's great somebody did this! Even though I am not a New Yorker, I love coming to New York and I saw those same guys on a train…" Even people who haven't invested but found the project on Kickstarter reach out to me and ask: "When is the film finished? When can I see it?" So it's really a positive experience!
E: What would your advice be to artists and entrepreneurs aspiring to use crowdfunding?
M: I had something to show the backers other than a written description. I had a trailer of the film completed and people could see where the film was potentially heading. My advice would be to directly involve the audience, the potential audience, or the potential funders as much as possible. Here is one example: if you gave a certain amount of money to my project, the four part doo-wop group would call any contact you choose on their birthday and sing them a "Happy Birthday" song! It is fun and it gets people equally involved! If you get people involved as much as possible, I think you have a better chance of raising your money!
E: Has anyone requested to sing the song yet?
M: Yes! I actually had one backer from Kickstarter email me the other day who asked me if the guys could call and sing to her brother. So that will be the first one of the Kickstarter backers that the guys get to sing a "Happy Birthday" to.
E: Looking back, would you rather have more backers invest smaller amounts or less backers invest larger amounts? Why so?
M: I would personally have more backers, giving less money, and have more people involved! The more people back you the more people are likely to talk about your film, keep up to date with your film and write about it.
E: What would you consider a success for a film? What is the next step?
M: The film is ready and now it's time for responsibility! With the remainder of my Kickstarter money I've submitted the film to festivals and I will keep applying as far as it goes. Of course you want people to like your film and I would really like to get into a festival or two. My biggest success would be having someone just say that the film touched them and that it made them feel something, that I captured something about New York that was special. The singers from the film are so happy and excited about it! The fact that they feel that I captured what they do means a lot to me. If someone likes the film – that makes me feel it is a success. Even if it is one person!
E: You are planning to use more crowdfunding?
M: We might use it to build an audience. For our next project, we want to make a fiction film. We want to make a short film to promote what will be, hopefully, the feature.
E: The next time you are going to use crowdfunding, are you going to do anything differently?
M: I think I'd reach out to more people. Kickstarter and crowdfunding worked really well for me and I enjoyed keeping in contact with the backers and sharing the experience with them. They enjoyed it and were excited as well! Next time I would do it with more confidence – crowdfunding pushes you to make a better project because people gave you money and are relying on you!
Thank you Matt for sharing your experience of making and crowdfunding Below New York with us! We wish you a lot of luck with your documentary! To all aspiring crowdfunders: involve, share and excite – because crowdfunding is an antonym to reclusiveness!
By Pim Betist
Pim Betist author of blog Crowd Funding – As we learn, we share and, Founder of Africa Unsigned, also created online label SellaBand, attracting music fans to invest and empower unsigned artists. More than 3 million dollars were invested in unsigned talent and around 50 artists "crowd funded" $50,000 to record and release their album. Nominated Dutch Direct Marketing Man of the year in 2008 and won the title of best speaker at MIA, Holland's largest marketing conference in 2008. Listed in Management Team as one of Holland's top 25 creative business people in January 2010.
Pim 'went on to create Africa Unsigned, because I wanted to move more towards music closer to my heart and I was inspired by a Jamaican taxi driver who couldn't join Sellaband due to a lack of recording facilities and internet access. I chose to focus on the African continent because of the diversity of African music and abundance of highly talented artists.'