With crowdfunding becoming an ever more popular way to raise start up costs for businesses and projects all over the world, Crowdsourcing.org decided to take a look at ten cases where crowdfunding has been put to a benevolent use.
SATELLITE OF LOVE

The rise in the number of people online — not just in the developed world, but in poorer countries too — is transforming the world into a truly "global village." As a result, those who have internet access have more opportunities than ever. Perhaps the most fitting example to kick off our look at philanthropic instances of crowdfunding is AHumanRight.org, a non-government organization whose mission is to ensure "global access to information as a human right." The charitable group employed the crowdfunding method in an attempt to buy the high capacity communications satellite Terrestar 1 from its bankrupt owners. AHumanRight.org planned to provide internet access to some of the poorest people on the planet, free of charge.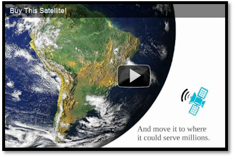 Although the project raised $67,000 towards its goal, the bid failed when Dish purchased TerreStar Networks Inc's assets in June for a staggering $1.375 billion. Despite the setback, the attempt raised awareness of connectivity issues. The Human Rights Council of the United Nations declared internet access a human right on June 3, 2011, which helped solidify and support the organization's message. AHumanRight.org is using the sum raised to work on another initiative that will take "a slightly different approach to solving the same problem." If you'd like to learn more about AHumanRight.org and why it's so important to make sure that internet access is available to everybody, then you'll find this TEDtalk by Kosta Grammatis both powerful and compelling.

CROWDFUNDING ON THE HIGH SEAS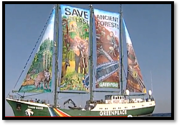 On an environmental note, Greenpeace has decided to get in on the crowdfunding act, using the method as a way of raising funds for the replacement of the famous Rainbow Warrior. Some of the "perks" that were offered in return for donations included an 800 Euro Survival Suit and a 10 Euro toilet roll holder. The real return, though, is that along with being part of a project that fights environmental crime all over the world and raises awareness of some of the most important issues we face today, donors received a Certificate of Purchase and Greenpeace added their names to a dedication wall on the ship itself. The project proved to be a success — Greenpeace launched Rainbow Warrior 3 on October 14, 2011.

FOOD FOR THOUGHT

FRESHFARM Markets, one of Kickstarter's recent success stories, raised funds to build a Foodprints Teaching Kitchen in order to teach Washington D.C. public school children the importance of growing and eating fresh, nutritious food. FRESHFARM Markets — who support local, sustainable farms and encourage a "healthy and secure food system" — previously taught the kids in a normal classroom. The group raised $60,000 by offering donors recipes, cookbooks and sampler bags of FoodPrints garden vegetables as perks, using the money to transform classroom space into a proper kitchen ready for the start of the new school year. Not only is this project environmentally sound — given the emphasis on eating locally grown, seasonal produce — but it will teach children about healthy eating early on in life.

PUT A HAT ON IT

A recent success on Kickstarter was the Krochet Kids intl. project, which raised more than $37,000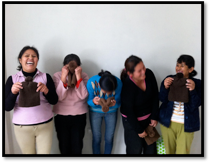 to empower marginalized women who live on the outskirts of Lima, Peru. Those living in squatter towns without electricity, clean water and sewage systems are mostly vulnerable families who have no educational or employment opportunities. They raised the money with promises of personal thank you messages on social media channels (for donations of $5), a limited edition knitted hat (for $40) and the unrivaled honor of having a hat style named after you (for $1,000 or more). The campaign attracted more than 500 backers and exceeded its $6,000 goal more than six-fold. The latest update from the project reveals that they can now train 10 women to make hats ready to start shipping in November. For those who missed out on the chance of getting a hat in the campaign, there is a website for orders.

HELP NEEDED FOR HELPERSUNITE

GoodWorldCreations launched a website in September called HelpersUnite, which is still in beta. The site connects charitable organizations, entrepreneurs and artists with supporters who can contribute time and skills to use web and social technology to "make the world a better place." Although none of the ventures are close to being funded yet, worthy causes include a project to help rescue workers and survivors of 9/11, Media Voices for Children (to raise awareness for children's rights), and Covenant Hospice, which will provide "health and support service options" to patients and their families, particularly the uninsured and the under-insured.


Off The Page is one of the most popular projects with donors – the owners want to extend Social Studies learning opportunities within U.S. public schools. So far they have raised 10% of the $11,250 they need for research and technology to develop a curriculum that they claim works "with students whose learning styles and abilities vary widely" and is vital for kids who struggle with traditional lesson styles.

CROWDFUNDING GOES NUCLEAR

Safecast used Kickstarter and private donations to create a website that will "empower people with data, primarily by mapping radiation levels and building a sensor network, enabling people to both contribute and freely use the data collected." The project launched within a week of the 3/11 earthquake in Japan with a small core team based in Tokyo and more than 100 volunteers worldwide. The team uses sensor devices to gather data and publish maps that they create by crowdsourcing the radiation levels in Japan. Citizen scientists filled gaps in the knowledge base on safety levels by "crafting their own Geiger counters" that are used by volunteers to measure fallout in the region. Among the team of Directors are Japanese activist and director of the prestigious MIT Media Lab, Joy Ito, and former Microsoft Chief Technical Officer, Ray Ozzie. This project is perhaps a "double crowd project" as it is an ongoing crowdsourcing project that used crowdfunding to launch.

PET PROJECT

The U.K. based Crowdfunder website hosted the Alpaca Maraca project, which recently raised 105% of its £540 target. Leeds-based charity
Alpaca Maraca's Animal Assisted Therapy "provides activities, fun, exercises and education for children." They needed money for six month's rent on a field where they keep three alpacas and offer group or individual sessions for children with disabilities, special educational needs, illnesses or children in care. They work closely with other charities, community programs and schools and offer speech therapy sessions. They raised the money by offering a mention on their website for £10, a woolly alpaca for £50 and Alpaca Maraca membership and a special meal for two at a local restaurant for £500 (presumably alpaca was not on the menu!).

MUSIC TO THE EARS

Another uniquely English project is featured on Sponsume where Karl Mullen, a professional freelance musician, wants to raise enough money to travel to Mekele in Ethiopia as a voluntary teacher at the Nicolas Robinson School. The school is run by Rainbows4Children, an independent foundation that provides education for disadvantaged children in Ethiopia. Mullen will use the donations to help with his travel costs and buy instruments and equipment to donate to the school. He's offering perks which include a CD of his music, a free piano lesson, a solo pianist (i.e. himself) for a party or event and a private performance, accompanied by singer Jen Low.

MICRO DONATIONS

Microgiving.com began in 2007 with the basic idea of connecting people with financial resources with people in need. The Micro Giving Foundation recently started reaching out to the film and music industries in a bid to promote and raise funds for aspiring artists. The projects range from raising money for cancer treatment, financial help for a family whose home was destroyed by flooding, funding research into "natural bodybuilding," and the Triangles of Truth International Project, a student movement "dedicated to honoring victims of the Holocaust by giving charity ... to meet the humanitarian needs of current victims of genocide and mass atrocity." On a bit of an unsettling note, Microgiving lists the name of each donor and the amount donated on each project page.

HOPE AND INSPIRATION

YouInspire Campaign raised $20,000 on the IndieGoGo website to provide a platform for people with serious health issues to reach out and connect with others who can provide support. They needed the money to launch their website and buy media equipment to film the stories of those involved.