We have seen a few examples of where crowdsourcing can lead to unpredictable outcomes or maybe an outcome that the crowd wants but where the minority knows better. In our Crowdsourcing's Seven Deadly Sins article we covered how the popular vote for Coca Cola crowdsourcing campaign voted for the removal of "Classic Coke". There was the case where the public voted, tongue-in-cheek, for Rick Astley's Song "Never Gonna Give You Up" as the anthem for the New York Mets new eighth inning anthem winning over 5 million votes, but was only played once during the game...and the entire audience booed!
On another occasion NASA called on the public for help in naming the International Space Station. Stephen Colbert caught word of the contest and shared it with his fans. Soon the name "Stephen Colbert" had six times more votes than any other options! NASA decided not to honor the winning choice. Finally there was the case where President Barack Obama tried crowdsourcing to collect questions for a press conference. His website, entitled "Open For Questions", was soon overtaken by enthusiasts for the legalization of marijuana, their cause rising above that of jobs, energy reform, and health care.

So, this time we have the German's to thank for helping us raise a smile! If you want the crowd to be really creative and you are giving them free reign to use their imagination you'd better be prepared for what they throw at you. This example might make you reconsider... Pril, a premium diswashing detergent by Germany based consumer brand giant Henkel is currently running a design contest asking consumers to relaunch the package design for a limitied edition campaign. Following a typical formulae, the 'My Pril' platform allows users to enter their own illustrations and vote for their favorite designs submitted by other contributors.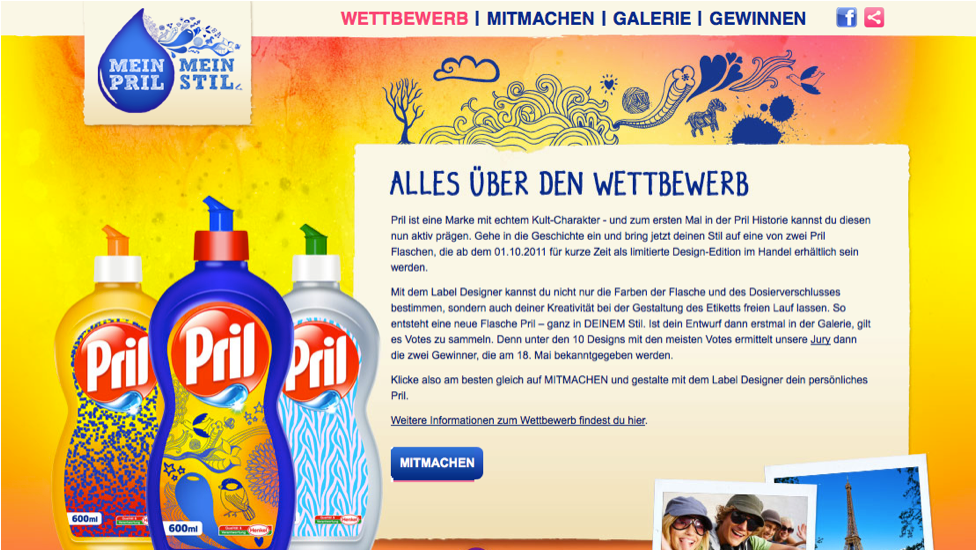 The illustrations announcing the competition provide a sneek preview of what Henkel's own marketing team have in mind for the new designs. So, many ideas were submitted which included labels with flowers and butterflies and (ooops!), one saying' Yummi Chicken Flavor - guess which one was ranked #1 by the users, who found the submission incredibly funny. When Peter, an ad writer from Hamburg, asked people to vote for his apparently absurd and good fun contribution, he triggered a social media avalanche.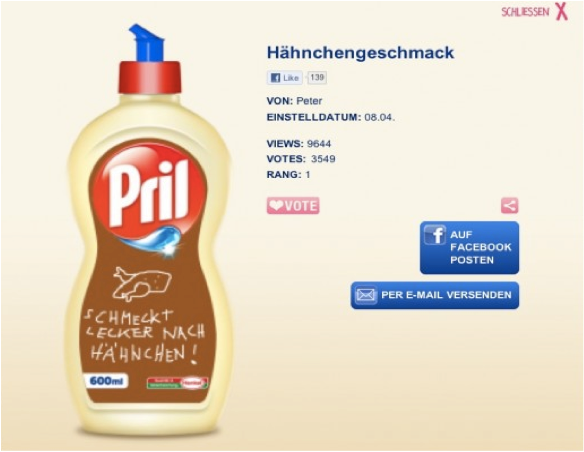 And what did Henkel do? While all the hype was going on, they snuck in another competition rule and announced that they appreciate humorous contributions, but in the end the in-house jury would ultimately decide which design was the most applicable. Their new guidlines were that the jury could only consider designs which a) can be marketed effectively and b) clearly indicate that the product is a detergent. Ergo, no chicken design in the end – but good fun for the community, some awareness for Henkel, and - maybe most importantly - the worthwhile lesson that one should never under-estimate the crowd's playful ways.
By Claudia Pelzer, Crowdsourcing.org's correspondent in Germany.

Claudia Pelzer is founder of www.crowdsourcingblog.de.
BRINGING YOU CROWDSOURCING NEWS FROM AROUND THE WORLD