Strumming the virtual collection plate
The music industry has seen better times - especially young artists who are finding it increasingly difficult to locate a sponsor. You can go down the path of Gang of Four, selling your own blood in order to fund a new album ... or you can search for new funding opportunities via crowdfunding. In reality (and thankfully) an increasing number of artists are choosing the latter option. Instead of blood, the supporter receives exclusive fan material, downloads, profit sharing, concert visits, and perhaps even a meeting with the band. For $10,000 some artists have even offered a private striptease! Such promises, however, are the exception rather than the rule. Most bands can be found recording in a studio, producing an album, performing gigs or on tour. In addition to the 'classical crowdfunding platforms' such as Kickstarter, other platforms have emerged. I would now like to introduce four of them to you.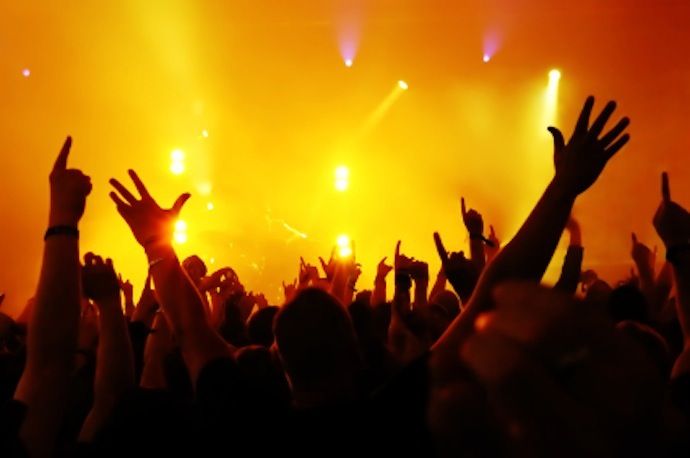 Sellaband
The platform Sellaband is a music pioneer in crowdfunding. The site, based in Amsterdam and also Munich (since 2010) was launched in 2006 and has since invested $3,000,000. Nearly 5,000 artists of different genres can appeal to their fans to buy so-called parts in British pounds. The bands are not just newcomers, but also well-known names such as Public Enemy, who collected $75,000 U.S. dollars on the platform.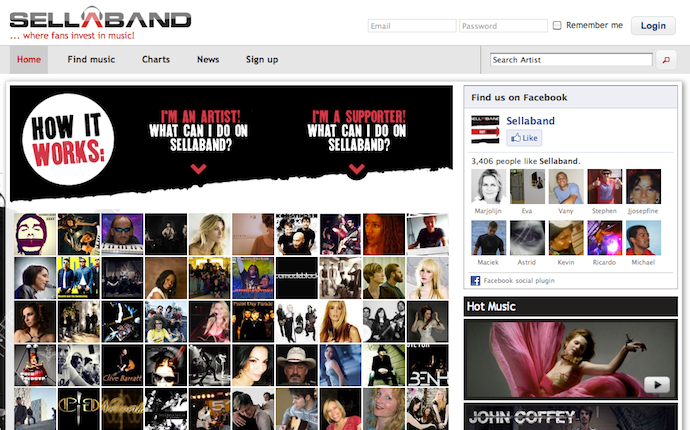 PledgeMusic
PledgeMusic is a direct-to-fan platform that can be used simultaneously as a crowdfunding portal. Pledge launched in 2009 in the UK (founded by Benji Rogers), and the portal has now extended its tentacles in the direction of the U.S market. The funding success rate of projects is about 77%, according to the site's data.
ArtistShare
The platform ArtistShare was launched in 2003 in response to problems such as illegal downloads, and has supported multiple Grammy winners. ArtistShare allows fans to support the artist and be actively involved in the development process of the music. Rewards include VIP tickets or a credit listing on the recording.
SonicAngel
This platform was launched in January 2010 by the Belgian label owner, musician, and producer Maurice Engelen (aka Praga Khan). His business partner is Bart Becks (former CEO of Belgacom Skynet). Fans at SonicAngel are included in the entire process of creating music. For 15 Euros you can buy FanShares and get a thank you for downloading the album; you can attend the album launch and also receive a share of profits. The artist, label, and fans each get a third of the proceeds. Angel has also launched a 'Circle of Producers' network, in which producers and experienced artists can advise newcomers. The concept has already been behind at least one platinum single.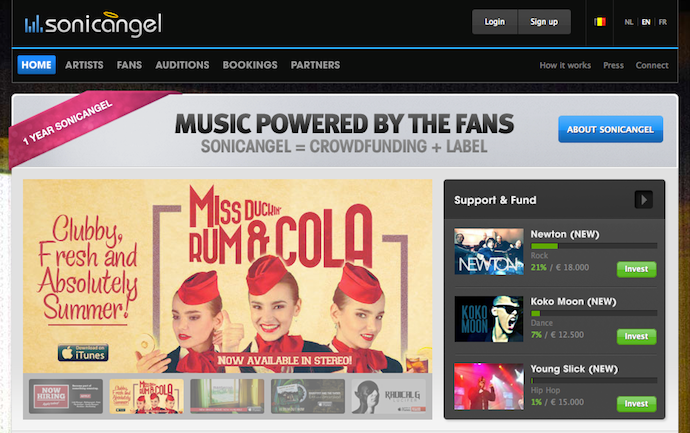 Last but not least: Project E, a documentary film based on the musical culture of the city of Mannheim. The makers want to show how great it is when people do what they love. The project was funded through Start Next, where it has collected 3,000 Euros.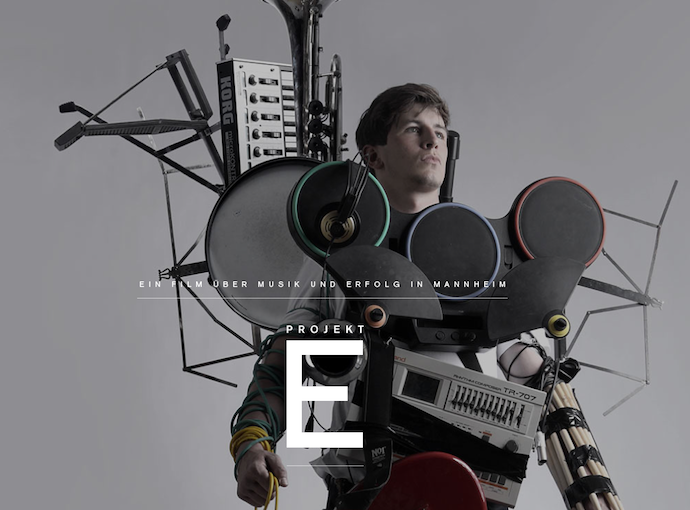 Not a Goldmine but Definitely a Good Thing
If artists are authentic and continually improving their work, there is nothing to prevent successful crowdfunding of their projects. However, neither the bands nor the platforms are rich yet - Sellaband stalled in 2010 and prevailed only with the support of some private investors. Similarly with PledgeMusic, the breakeven has not been reached. Nevertheless, it is nice to see that platform creators still have their hearts and souls into this cause.
By Claudia Pelzer, Crowdsourcing.org's correspondent in Germany.Claudia Pelzer is founder of www.crowdsourcingblog.de.

BRINGING YOU CROWDSOURCING NEWS FROM AROUND THE WORLD