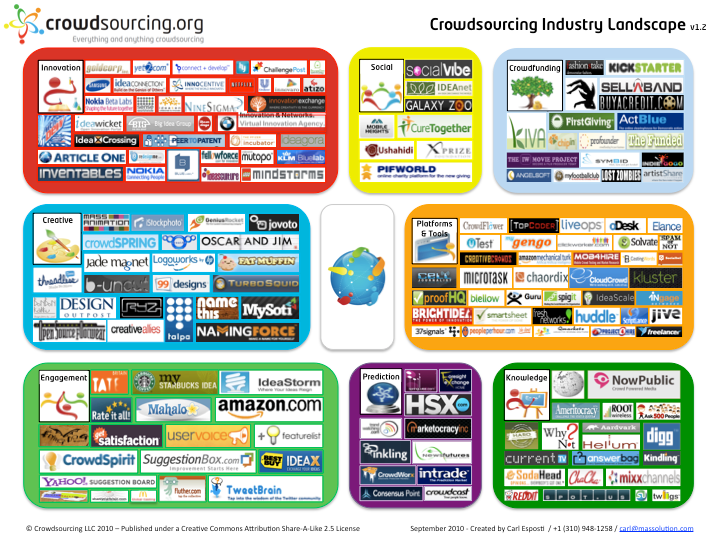 As with any emerging industry, new business models form, technology plays a different role and traditional organizational structures are challenged. As new models for online production and problem solving have proliferated over the last few years, Crowdsourcing platforms as we now collectively define them, we need to be able to organize, compare and contrast the different forms.
As with the development of any industry taxonomy, there are multiple options for categorizing the different models. With crowdsourcing platforms, some of the more material attributes include application (purpose), sector (industry), revenue model, reward mechanism and community system, to name a few.

The Crowdsourcing Industry Landscape, complied by Crowdsourcing.org, organizes a large number of the crowdsourcing platforms within the industry based on their primary application. The eight top level categories, which are referred to as Communities on crowdsourcing.org, are Creative, Innovation, Engagement, Innovation, Knowledge, Prediction, Social and Tools - Tools also includes freelance labor platforms.
Creative relates to the generation of production of any design based work product.
Crowdfunding includes any sponsorship, debt-based or equity-based models for raising money or investments from a crowd.
Engagement refers to companies and platforms that are using crowdsourcing to develop meaningful engagement with their constituents.
Innovation relates to platforms that are using crowdsourcing to generate ideas or design or enhance new products or services.
Knowledge refers to crowdsourcing platforms whose primary purpose is the development and aggregation of community generated knowledge or information.
Prediction are crowdsourcing models that take the collective knowledge and wisdom of the community to formulate idea futures or prediction markets.
Social applications focus on crowdsourcing models for social benefit such as community programs and non-commercial applications of crowdsourcing where individuals or groups are invested in bettering the lives of others.
The Tools category includes either branded or white label crowdsourcing software applications for entrepreneurs, freelancers and enterprises looking to source work and services via online communities.

The Crowdsourcing Industry Landscape will continue to be refined and developed to provide a framework to organize the data, make comparisons and to lead us to conclusions regarding the current industry structure and players, what direction the industry is taking and how it is evolving.

If you crowdsourcing company isn't represented on the current version of the graphic or if you are aware of someone we have missed or have insights to share, please let us know.