The iPhone as an all-powerful, all-around, faithful companion? In some cases, this notion is not too far-fetched. A new iPhone app is accomplishing a small miracle through crowdsourcing! It gives the blind man or woman with a camera phone a virtual eye, allowing him or her to cope better with daily life. The true value here is not so much the hardware or software, but rather the community that is behind the application – individuals who are working to improve the quality of life of the visually impaired.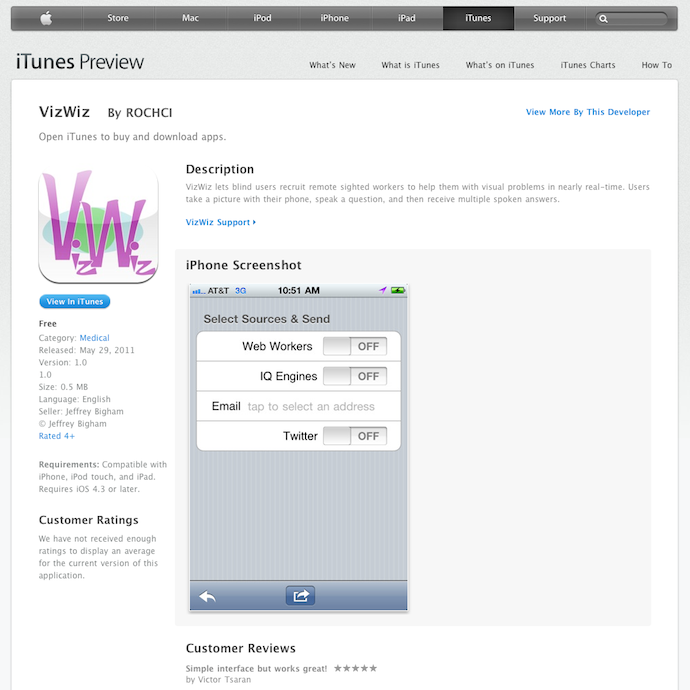 Scientists from the Rochester Human-Computer Interaction (ROCHCI) research group at the University of Rochester developed the iPhone App called VizWiz, which uses crowdsourcing to generate responses that assist the blind. Users can report a visual problem of any kind (with an image or a voice recording) and within seconds or minutes, the crowd will provide a response via voice recording. Mostly, the challenges presented have to do with reading documents, labels, and street signs, but more simple requests are also addressed such as the color coordination of garments. The developers reported a successful test, which on average received a reply within 2 minutes. In 87% of cases, users were helped to resolve their everyday challenges.

The VizWiz crowdsourcing service provides answers generated from Amazon Mechanical Turk workers, volunteer workers recruited by the research group, IQ Engines, which is an image recognition service, as well as Twitter and email. Here's an example: the blind student wants to prepare soup and is looking for a can of coconut milk. In the cabinet, there are three cans of the same size but each with different contents. She takes photos of the cans with her iPhone and asks, "Where is the coconut milk?" Within 45 seconds she receives an answer: "on the far right".
By Claudia Pelzer, Crowdsourcing.org's correspondent in Germany.

Claudia Pelzer is founder of www.crowdsourcingblog.de.

BRINGING YOU CROWDSOURCING NEWS FROM AROUND THE WORLD