With flu season in full swing many parts of the world, the folks at Sickweather hit on just the right time to launch their new website, which uses the crowdsourcing model to track the dreaded flu infection. The Sickweather team hopes that users will use this new software as a way to avoid catching flu this winter. We took a look at this new website to see what it's all about.

Sickweather LLC, based in Baltimore, was co-founded and launched by three guys who grew up together in that area. They built the website as a way of getting a "perspective on when sickness bubbles up, where it travels and how it affects our lives."

Online Tools for Health Professionals

Although health professionals already have a plethora of online tools for tracking the spread of infectious diseases — like Google Flu Trends, Global Public Health Intelligence Network and Health Map — Sickweather's claim to fame is that it operates in real time and is open to everybody, not just health workers. I checked out these other websites so that I could make an informed comparison with Sickweather.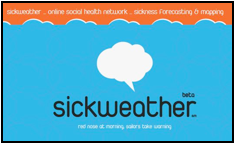 Google Flu Trends doesn't cover all countries. I'm in Greece presently, and that wasn't an option on the dropdown list of countries. Neither was the U.K., where I'm usually based. Looking at the world map, flu doesn't seem to be a problem in any of the countries that are covered and there's nothing to indicate how current the map is.

Global Public Health Intelligence Network is a multi-lingual early warning system that "gathers and disseminates relevant information on disease outbreaks" on a 24/7 basis. It's used by the global public health community for developing control, risk management and prevention measures.

Health Map seems to be focussing more on serious diseases, rather than flu and colds. When I typed "flu" into the search box, it seemed to 'hang' for quite some time and didn't deliver the results. Checking out the U.K., I found not one case of flu — just measles, parovirus, meningitis and E.coli.

Sickweather – Social Media for Sufferers!

After checking out its competitors, I registered on Sickweather. The registration process is really simple: you just give your name, email address, password, location, date of birth and preferred medicine (conventional western / holistic alternative). I got an instant confirmation email with a clickable link to complete the process. Once I'd joined and logged in, I had the option of connecting with Facebook and Twitter — this use of social media as a way of tracking symptoms is innovative and is likely to make Sickweather popular amongst people who like to research their symptoms online. The Sickweather team has developed algorithms that will scan Facebook and Twitter for data generated by its users. It all sounds a bit 'Big Brother' to me — I generally don't allow apps on Facebook that want to access my information — but there are plenty of people who do, so that shouldn't be a problem for Sickweather.


In fact, the tagline for the website is "online social health network – sickness forecasting and mapping." This means that the users themselves will be providing the data that keeps the Sickweather mapping relevant and up to date.

People who want to avoid catching infections can zoom right in on the map and look at the cases reported in their own neighbourhood, a useful tool for those who tend to catch bugs easily. A blue speech bubble containing the word "sick" indicates single symptom reports, while groups of symptom activity are indicated by orange triangles.

All Sorts of Infections

Sickweather is not just a flu map — there's a whole range of sicknesses to choose from using the dropdown box on Sickweather: allergies, bronchitis, chicken pox, common cold, cough, croup, depression, ear infection, fever, flu, hand, foot and mouth, hay fever, headache, lymes disease, nasal congestion, pink eye, pneumonia, sinus infection, sore throat, stomach virus, strep throat, stress and whooping cough. How useful it is to include headaches, depression, stress and the like amongst actual infectious diseases is up for debate — but the future findings will be interesting to say the least.

I tested the map to see how many people in Greece are sick at the moment. I discovered just one case in Corinth, which is nearly 150 kilometers from the tiny Greek island of Spetses where I'm living. I think these findings are probably due to the fact that internet use in Greece is not as widespread as it is in the rest of Europe and the U.S.


I decided to check out the U.K. and see what's happening there. This produced more results, with parts of England and Scotland covered with orange triangles. When I zoned in on South Wales (which is where I hail from), I discovered two single incidents of sickness, one in Cardiff and one in Swansea. This is not an indication that people in Wales are more robust; I think it's more the case that Sickweather hasn't caught on there yet.

With the site still in beta, I don't think that these early indications are giving a true picture. Once the website gets a bit more publicity, users will flock to it and then we will probably see a much more accurate picture of what's going on. The option to connect with Facebook and Twitter will be a crucial factor in effectively crowdsourcing data on infections in such a way that users will be able to avoid locations where they're most likely to catch bugs.

Checking out the world map revealed that people in the U.K. seem to be taking this onboard more than people in the U.S., where the orange triangles are concentrated on the Eastern Seaboard and Kentucky, Iowa and Indiana. As Sickweather co-founder Graham Dodge told the BBC, Sickweather is still at an early stage; as more people sign up, the website will become more useful.


It looks as if the website is monetized by offering some advertising space — there's a column on the right hand side of the page with Sponsored Links. The advertising is for cold remedies, vitamins and, bizarrely, flowers ("Send those sick friends some flowers!" the ad suggests).

Crowdsourcing – Disease Control of the Future?

During the 2009 swine flu epidemic, researchers in Iowa used Twitter to compare the number of people tweeting with cases reported to the U.S. Centre for Disease Control. They discovered that the data from Twitter provided more accurate, timely results than the CDC data. Twitter was used by researchers in Brazil to track the spread of dengue fever in the hope of speeding up medical professionals' response to the disease. This seems to suggest that social media can give a much more up-to-date picture than dedicated health software. Perhaps crowdsourced information on infections will prove to be a more effective tool for healthcare professionals than the software that's been specially designed to do that job for them.