Last year LG Electronics, the world's second-largest manufacturer of television sets and one of the world's largest electronic conglomerates, known for its use of top Korean music and film stars and its stunning TV spots, launched its first open communication forum called the Life's Good lab. Its aim was to intensify the interaction between the company and their consumers in Brazil and Latin America as a whole and to also infuse the company with fresh ideas. The initiative was a success building a community of over 118,000 fans on its Facebook Page who generated more than 15,000 ideas. This initial success provided the backdrop for LG Electronics to explore further ways of using crowdsourcing and social media to engage its audience. This year, LGE have chosen to use their social media outreach to promote Korean culture by using their Facebook fan Page to launch a video contest

LG has been using Facebook as a platform to connect with its audience while, at the same time, collect new ideas. The next step, according to the company, is to keep in touch with the fans of LG and to create a place where they can express and post not only their ideas but expressions about the brand.



To explain better what this strategy means for the company I talked to Paulo Santamaria, responsible for Regional Digital Marketing at LG. Santamaria said that the objective of the strategy is to revitalize the LG brand and to improve customer preference. He wishes to emphasize LG's brand image as young, passionate and energetic. "Our target demographic are the younger generation, fans of good music, the generation that is really attached to technology, growing up in the new social media culture".

Read the full interview here.

Crowdsourcing.org: When did it all start?

Paulo Santamaria: It all started in August last year.

Crowdsourcing.org: What was the goal of the Crowdsourcing initiative?

Paulo Santamaria: The idea was to bring the LG consumer closer to the brand in an innovative and creative way. We did not want to just develop a website to exchange experiences with our customers. Our aim was to get input directly from our consumers so we can create new products that become increasingly appropriate in their lives by providing them with more free time, greater levels of convenience and additional comfort.

Crowdsourcing.org: Since you launched the initiative, what are all the things that have been going on?

Paulo Santamaria: We viralized the LAB message throughout Latin America. Our video had more than 1 million hits in less than three months. The PR event, which was attended by Guy Kawasaki, a Silicon Valley venture capitalist and bestselling author, generated numerous posts and was news accross major media channels and throughout social media. During the launch event, the Twitter hashtag #Life'sGoodLAB was among the top trending topics globally. The event was also broadcast live on the platform itself.

Crowdsourcing.org: What have been the results so far? How many ideas were received and how many were implemented?

Paulo Santamaria: When we talk about concrete results we can see more than two billion media impressions, more than 3 million hits on the page (in 3 months), more than 1 million hits on the video "The Monkeys 3D Reunion"



and over 3 million visits on all videos produced. In total there are 118,000 fans on the Facebook page and more than 15,000 ideas. All these ideas have been classified and thus we can better understand how our customers (current and future) related to our brand, what they expect and how we can improve our products based on consumer interactions. The greatest benefit of all was the intimacy created with our customers as a result of the interaction. We are now much better equipped to understand the image they have of our brand and what they expect of new technologies.

Crowdsourcing.org: Why did LG opt for using Facebook and YouTube?

Paulo Santamaria: The Facebook platform was a natural choice and a platform that is continuing to expand in Brazil – it was the ideal conduit for a rich and fruitful exchange of experiences. Facebook provides all the tools to increase engagement and the dynamics of the campaign, users are already familiar with this media platform and there was no need to "teach" them how to participate, which increased the number of participants. Also, many users connect with Facebook and YouTube at least once a day and the level of engagement of these users is very high. Powerful tools help with viralization of the content. We chose YouTube, naturally, as the video platform, for its great linkage with Facebook. Today there are millions of hours of YouTube videos posted on Facebook.

Crowdsourcing.org: Was it successful?

Paulo Santamaria: The campaign was so successful. We have since seen many other brands going down the same path of LG and collecting much of the same information through these new media channels.

Crowdsourcing.org: How did you sell the idea to executive management?

Paulo Santamaria: We simply showed that this is what the consumer wanted. It didn't take much effort to convince them. LG has a strong brand name, we know our audience, so we have to hear their voice.

Crowdsourcing.org: Who filters the ideas received through the platforms?

Paulo Santamaria: The first filter was the users themselves. Then we had a team of experts that were looking at what ideas were feasible or which ones were not. Then there was the entire creative team that were interacting with the users on the site, directing the users as they posted their thoughts. In addition, bloggers were engaged in online dialogue and also experts directed the user by posting comments and tips on how to develop and improve the ideas posted. Finally, the marketing and R & D teams acted as the final filter, looking at the ideas and filtering those that were viable or not viable.

The ideas were organized into seven themes: New Living, New Luxury,
Relationships, Evolution Welfare, Entertainment, Education and Working Better. Each theme being chaired by a mentor, a professional with experience in the Field, also knowledgable in the use of social networks.

Crowdsourcing.org: Is the K-Pop contest part of this strategy?

Paulo Santamaria: K-Pop (Korean Pop) is the second phase of our experience with social media interaction, promoting Korean culture which is already very popular in America Latina. To spread the concept K-Pop LG we also used different social media channels such as Twitter and YouTube. To make the most out of the K-Pop campaign, LG launched an online contest where users and fans were encouraged to create their own videos and post them on the LG website. Fans were also be contacted by bloggers from different countries in Latin America (Venezuela, Brazil, Colombia, Peru, Argentina, Chile, Uruguay and Mexico) and also had the opportunity to communicate with other ?K-pop fans.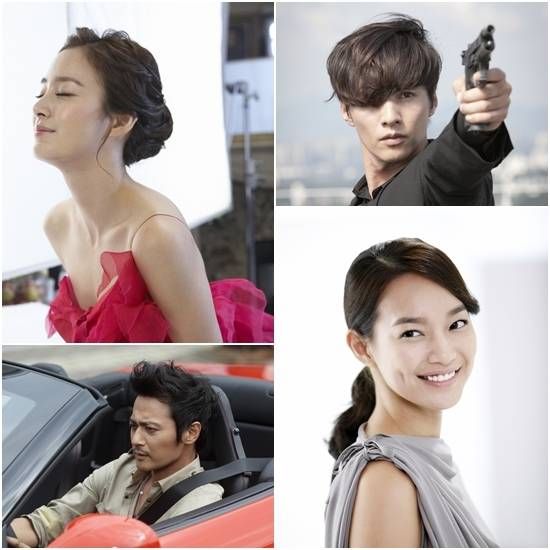 Crowdsourcing.org: What is the next step for LG?

Paulo Santamaria: The next step is to keep in touch with the communities of LG fans and to create a place where they can express themselves and post not only their ideas for new products but their expression and sentiments towards the brandThis will allow us to increasingly adapt to the tastes of those who use and consume our products.


[Photo - Top Korean Superstars - Top Left: Kim Tae Hee, Top Right: Won Bin, Bottom Right: Shin Min Ah, Bottom Left: Jang Dong Gun]
By Flavio Gut, Crowdsourcing.org's correspondent in Brazil.

Flavio's experience includes executive editor of Agêncita Estado and newspaper O Estado de S. Paulo, and reporter at Agência Folha, Agência Estado, and Jornal da Tarde. He can be reached at flavio@crowdsourcing.org