When Seth Priebatsch, CEO at SCVNGR, delivered his audaciously provocative presentation at TED he was talking about how to motivate the crowd when money isn't the currency. You can call the approach of rewarding certain online behaviors (or penalizing others) 'Gamification', 'Game Mechanics', or 'Social Rewards', all are being equally banded about and are receiving lots of buzz. Whatever you call it, it's all about the motivation of the masses...we'll call it Gamification.

The options for presenting a range of digital incentives and rewards is theoretically infinite but the primary design elements include motivational triggers such as: positive (and possibly immediate) feedback (e.g. a sound that quickly becomes recognizable upon the successful completion of a task); noticeable advancement through the "game" upon successfully performing the work (e.g. progression to a new level); awarding points, badges, and status levels, etc. (see Gowalla, GetGlue or Foursquare).

Gamification however can be about much more than just driving online engagement by awarding users tokens that represent their various levels of achievement – some refer to this type of consumer engagement as 'Pouring Chocolate on Broccoli' (a very Germanic expression meaning to simply spice something up that is a bit boring). Used in this manner, the greater potential of using Gamification is somewhat lost.

The science behind Gamification as it's being applied to Crowdsourcing is to make the performance of an otherwise mundane online task, something fun to do. By presenting a simple task in a playful manner you motivate the user through the introduction of a competitive dynamic. Tried and tested approaches are being adopted that are straight out of the world of electronic games, where settings are created where tasks are incorporated as actions within games, often in surreal environments, sometimes incorporated as part of a story, a journey through the game.

A prime example is Digitalkoot, a joint project of the National Library of Finland and the Finnish Micro crowdsourcing platform. In two different versions of a game a mole participates in challenges to correctly identify text. The goal of the game is to help the moles navigate its way out of the garden - the following clip shows you how.


The real aim behind the project is to create a digital game where participants are helping to digitize the Finnish National Archives, thus enabling the records to be put online to be made available to anyone. The project "Digitalkoot" has been a great success. A crowd consisting of 55,000 volunteers willingly invested over 3,400 hours of their time helping to digitize the records. The standard computer based OCR (Optical Character Recognition) software was achieving a level of accuracy of 70% when identifying typefaces which is far below acceptable standards and therefore the 30% of errors, the exceptions, were presented to the crowd. When it comes to rare text forms and documents that are often poor quality or even hand written, machines have low prospects of success against humans.

Last June, in Berlin at CrowdConvention, I met with Ville Miettinnen, Founder & CEO of Microtask, and I asked him about the story of the mole and the potential for using Gamification as a mechanism for incenting crowdsourced work.
Interview mit Ville Miettinen (CEO & Founder Microtask) from CrowdsourcingDE on Vimeo.
Human Computation specialist, Luis von Ahn's, project being conducted jointly with Carnegie Mellon University's School of Computer Science, referred to as GWAP ('Games With A Purpose') is looking at the field of improving the ability to find specific Web content by using Gamificaton techniques to crowdsource additional data. The approaches being explored involve a battery of mini-games (e.g. memory based exercises') that involve crowds tagging items to better describe their contents: images, audio and video files. The project has set itself an ambitious goal: to categorize the web. As rewards being offered to encourage participation, Amazon vouchers are on offer as well as the chance to appear in the Top Ten list of ranked contributors.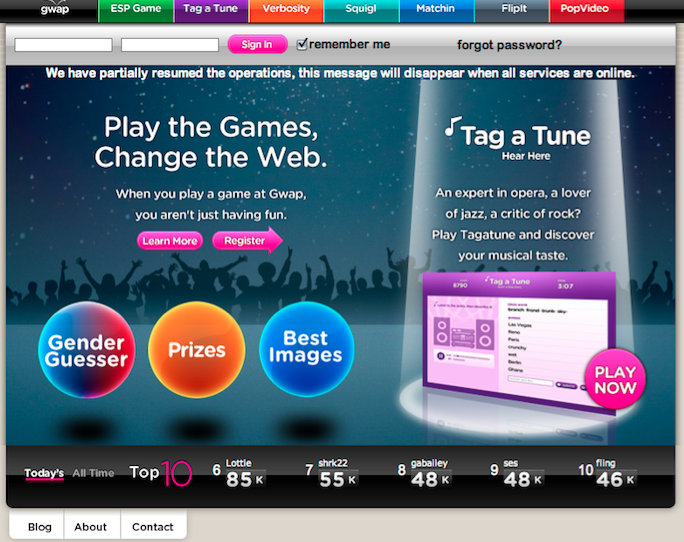 Another interesting example where user participation is encouraged by making an award to a good cause is FreeRice.com, a non-profit website which is part of the United Nations World Food Program. The principle is simple: the user plays, for example, a geography quiz played through a vocabulary trainer and correct answers result in an amount of rice being donated, which is funded by different sponsors on the platform. Free Rice is able to achieve two goals by gamifying a task-based exercise to perform the cataloging of data and a philanthropic based reward mechanism that contributes to providing hunger relief. Since the site launched in October 2007, nearly 92 billion grains of rice have been donated.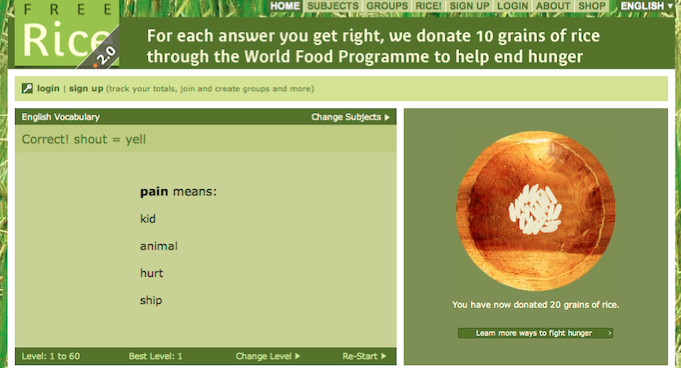 Further examples include a number from the field of science such as Fold.it, a revolutionary interactive computer game that enables participants to contribute to important scientific research. Foldit users are provided with rules and parameters that they have to follow and that allow them to correctly arrange the on-screen protein into small shapes.

Gamification is also being explored by the HR departments of major corporations for its potential application in the field of recruitment. Marriott, for example, uses a Facebook game to screen potential candidates on their suitability for the service industry while at the same time collecting valuable survey data that provides them with valuable insights into travelers' views about the hospitality industry. Another large corporation, Bayer AG, is a sponsor of the social gaming platform Fliplife within which, the digital enterprise, Bayer Business, is the main employer within the digital ecosystem. As users engage in the system and create projects and interact with Bayer Business, Bayer is communicating its messaged in a non-intrusive way as part of the game, particularly effective when it comes to communicating with younger candidates.

A key challenge in the use of Gamification is the need to ensure that the perceived value of the reward, the timing of the rewards and the precise adjustment of difficulty levels maintains the flow of the game. For those who want to delve deeper into the subject, this Google Tech Talk on the topic from October 2010 called 'Mastering Gamification Fun is the Future' is a must watch.


For platform owners wanting to explore the integration of Gamification approaches there are a number of leading providers of Game Mechanics utilities such as BigDoor and Gigya. There is also an open source option called Gamification UserInfuser that provides various tools and support, including around Social Rewards.
The future for Gamification looks bright. Gartner predicts that by 2015, over 50 percent websites that have a community element will include some form of Gamification as a way of driving user participation. CrowdFlower, spokesperson Molly Allick told me recently in an interview, that over fifty percent of their work is delivered through affiliate partner networks who are distributing CrowdFlower's tasks via social community based platforms. These tasks are being completed as games where workers are being paid in "virtual" currencies. Also, Allick said that the volume of the work being executed in this manner is rising rapidly.
Gamification works because we all possess the desire to play – it's in human nature. We want to compete against others, we seek reward and positive feedback -- in the absence of verbal affirmation promotion to the next level or a star of recognition will suffice! We want to demonstrate we can solve tricky problems and prove how clever we are. We want to be acknowledged for our wisdom and abilities and we want to be challenged. In the words Friedrich Schiller, "Man is only wholly human when he plays and he only plays when he is recognized and rewarded."
In the Virtual Workspace of the future, work and play will be one in the same!
By Claudia Pelzer, Crowdsourcing.org's correspondent in Germany. Claudia Pelzer is founder of www.crowdsourcingblog.de.