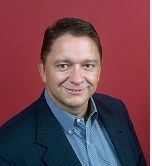 For those that think that crowdsourcing is about logo design competitions the debate continues about whether crowdsourcing is in fact just a fad – an exploitation of underpaid workers that will fade quickly once the perception of novelty is gone. There are others however, that have figured that there is more to crowdsourcing and that it has the potential to stir things up. So why is this and what are we talking about? I recently met with Dwayne Spradlin, President and CEO of InnoCentive who shared his strategic vision for the company.

First though, let's put crowdsourcing into context. In the beginning there was the world wide web and early applications that helped us connect: the "communications layer" provided the connectivity – things that had previously got in the way of doing business weren't a problem anymore. The Internet removed distance from the equation, borders vanished and time zones merged. Then came the social infrastructure that provided the means to interact in a consequential way: the "social layer" has turned us from passive consumers of information to active producers of content. Now, the "production layer" is being constructed – this is the infrastructure that enables interconnected communities to engage and produce. When people use this infrastructure to problem solve or to generate something new and of value, we call it crowdsourcing.

Watching out for imaginative uses of crowdsourcing is fun and every so often makes you think someone's onto something. Who would have thought coupons would be cool again? However, when crowdsourcing is adopted in a way that changes how businesses operate and perform, as Dwayne Spradlin and his team at InnoCentive believe they have, then it get's really interesting.

Spradlin is a highly accomplished executive with a track record of re-shaping and scaling businesses that use technology to harness collective intelligence and information. In 2007, Spradlin was the CEO of a successful public company that had defined the model for the successful syndication of business data. He was approached with an offer to join InnoCentive and lead the charge of a new disruptive business that had the potential to transform industries.

In business, Spradlin champions two great beliefs: he is convinced that traditional models fail to tap the full human potential for solving the worlds greatest challenges; and great leaders are distinguished by their ability to drive meaningful and sustainable change into business.


What's this got to do with crowdsourcing? InnoCentive is a leader in the field of Open Innovation, helping organizations reach beyond traditional organizational boundaries that historically have inhibited the generation of ideas from outside the enterprise. Via a connected network of over 220,000 experts, many with advanced degrees in fields including scientific, medical, mathematical and professional subjects, InnoCentive help solve some of industry's and society's greatest problems. InnoCentive has enjoyed an abundance of success and has been associated with a number of leading companies and numerous groundbreaking initiatives.

2010 was an important year for InnoCentive as they launched the Emergency Response 2.0 pavilion in response to the BP Oil Spill; helping propel collaboration and Challenge-Driven Innovation in the U.S. Government by working with NASA, In-Q-Tel and other government agencies. Solvers from around the world had an unprecedented opportunity to contribute to the NASA program and impact how the U.S. explores the "final frontier." They helped Toyota elicit ideas to improve the world using some of their most innovative technologies through the "Ideas for Good" initiative. InnoCentive Solvers have provided innovative solutions to the clean water and hydropower challenges faced by third world communities; they have addressed a critical malnutrition issue faced by pregnant women; suggested creative ways to involve parents in their children's education; pioneered ways to attack Type 1 Diabetes; and identified extraordinary, unorthodox opportunities for philanthropic investment.

InnoCentive was formed in 2001 and since Internet years are like dog years InnoCentive should be thought of as a company that has now matured and grown-up, a business that has been around enough to have figured out how to turn crowdsourcing from fad to fundamental. InnoCentive have realized that its model has the potential to be more profound than simply facilitating the generation of ideas and the resolution of problems. As Spradlin explained, the goal that world-class companies are striving to achieve is how to deliver "twice the innovation at half the cost". It seems that what has emerged from ten years of pioneering work in Open Innovation practices is that the golden egg has not been found in the resolution of any one of InnoCentives specific challenges but in the process itself that it has defined to drive and manage innovation!

Spradlin sees the future for InnoCentive being more than a partnering with organizations to support one-off innovation events and rather in its ability to be integral to driving an innovation culture within an organization. For those enterprises that "get" it, by working with InnoCentive on a series of innovation challenges the very process around innovation becomes the means by which an organization can drive transformation deep into its critical business processes.


In InnoCentive's new book The Open Innovation Marketplace: Creating Value in the Challenge Driven Enterprise, InnoCentive describe its Challenge Driven Innovation (CDI) methodology for collaboration and IP transfer – the essence of CDI being to provide a structured and proven framework that enables important solutions to be sourced from unexpected sources, both internal and external solvers with diverse backgrounds, to solve some of industry's most difficult problems.

InnoCentive has realized that innovation needs to be directed towards the outcome and not the process itself. InnoCentive has mastered the ability to define an innovation challenge in a consistent way, as an object with defined parameters and perhaps this is their greatest innovation. This may be the very essence of InnoCentives success, providing the solvers with a uniform way of understanding the boundaries of a challenge in a way that transcends geographies and cultures. This also enables organizations to tap a global network of solvers from all corners of the globe and for solvers to work in a consistent way to resolve problems presented by any company regardless of industry or country.

When the solvers understand the key elements of a challenge, they are recruited, harnessed and directed in a way that maximizes value. Better still, higher success rates consisting of better economics, technological breakthroughs, reduced time to market for new products, expediting the problem-solving process and delivering better solutions, result in the new innovation processes and tools being adopted and institutionalized within the organization, leading to a longer lasting and impactful culture of continuous innovation as opposed to innovation being considered as an individual event for a specific initiative.

The formulae is in the way InnoCentive defines the "challenge object" which Spradlin explained consists of: a clear problem statement, a description capturing the nature of the challenge (an ideation challenge versus a theoretical challenge), the strategic levers that can be deployed (i.e. the disciplines and forcing systems), the measures of success and criteria for acceptance, the rules about IP transfer and the inducements offered.

As InnoCentive continues to define its mission, it is realizing that its opportunity lies in driving a culture of continuous innovation into organizations. As with all disruptive forces, there will be organizational roadblocks trying to slow down change. Adoption will require changes to the organization; the future Innovation Office will own the mandate for driving innovation across the enterprise. Also, the formation of new organizational disciplines will be required, as we have observed in areas such as procurement, with the development of strategic sourcing disciplines. The Innovation Office of the future will not view itself as guardians of innovation initiatives with a "do-it-ourselves" attitude but rather as the orchestrators of innovation into the enterprise connecting and facilitating the definition of needs and their dissemination to a broad undefined population of solvers and the re-integration of solutions back into the enterprise.

As such what began as a platform for connecting problems to solvers has matured into a business whose model promises to drive a transformation agenda deep into the DNA of the businesses that embrace it. So, this is where it gets really interesting and where crowdsourcing becomes more than a new model for innovation Instead, it becomes the disruptive force that drives significant and enduring change into business. By tapping the full human potential for solving the world's greatest challenges and by providing visionaries within industry with the means to drive transformational agendas, InnoCentive continues to be groundbreaking.