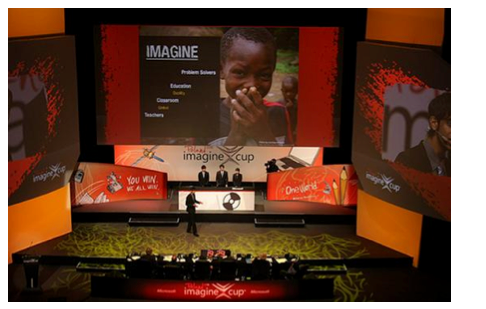 On November 22, 2010, Microsoft Corporation announced the launch of the 'Imagine Cup Solve This' program, a student technology competition designed to help nonprofit organizations, non-government organizations, and intergovernmental organizations. While providing the inspiration for students who wish to help with solving some of the worlds toughest issues. It is a part of the 'Imagine This' competition, which has been ongoing for nine years.
These organizations are able to seek the assistance of the passionate and creative students that participate in the Imagine Cup program. Those students are presented with the opportunity to get involved and to put their ideas into action to solve real-world issues
Among the projects which these students are working on are such issues as how to feed the hungry, how to get immediate help in the case of a disaster - and help emergency responders to get pertinent information, and how to bring literacy and education to underdeveloped countries.
Students are now able to register for Imagine Cup 2011, and get access to the compete library of challenges which have been submitted across all organizations. They can then identify the project ideas that appeal to them and match their level of skills and knowledge, while they take pride in working on the issues that they are most passionate about. The eventual plan by Microsoft is to expand the 'Imagine Cup Solve This' program globally, inviting any interested non-government organization (NGO), intergovernmental organization (IGO), and nonprofit organization to participate.
Microsoft's crowdsourcing initiative is much more than just another student competition, as Vinney Jeet explained, a member of Team OneBeep who won third place in the Imagine Cup 2010 software design project. The University of Aukland student stated, "The Imagine Cup provided an outlet for me to bring my ideas to life. But the Imagine Cup isn't just a competition, it's a global movement that is helping students become entrepreneurs with a purpose."
Pamela Passman, the corporate vice president of Global Corporate Affairs at Microsoft explains how the program has helped both students and organizations turn their focus towards tackling some of the world's greatest issues. "The Imagine Cup competition features students who are very passionate about social issues, problem-solving and technology. To help students generate project ideas, we created Imagine Cup Solve This, which connects them with nonprofits and organizations in need of new approaches to the variety of problems they encounter. This pairing illustrates how we are evolving the competition to empower students to help make a real difference in the world."
She also went on to share how the idea for the 'Solve This' program came about. , "We often hear from all the NGOs and nonprofits that they would love to have our help in thinking through the applications of technology to some of the very challenging issues they're working on. What we've done with Imagine Cup Solve This is provide a platform for our NGOs and U.N. organizations so they can submit applications for what they think can help them."
It is definitely not the first time in which Microsoft has used crowdsourcing. As the company was working on the release if it's 'Office 2010', Microsoft was utilizing crowdsourced ideas in order to make a better, more consumer-friendly product. Denise Carlevato studied the mouse clicks and keystrokes of literally millions of anonymous computer users all over the globe, in order to make Microsoft Office 2010 a better fit for the way people work.
Several months before Microsoft Office 2010 was released, nine million customers downloaded the beta version, as a way for Microsoft to allow them to test the Productivity Suite, and give their feedback. Two million different comments were collected by Microsoft, and six hundred more people were participants in Microsoft's Virtual Research Lab so that Carleveto and her co workers would watch how the people used the program's new features.
P.J. Hough, the corporate vice president of Office Program Management stated, "We were making many decisions not based on what others were doing, but on what customers wanted us to do. We did research on customers that led us to the path."
You can read about the challenges listed on the Imagine Cup website here .