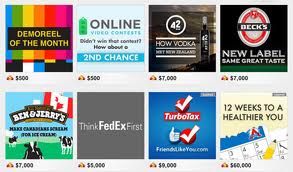 Poptent, a crowdsourced video production company for Fortune 500 brands and agencies, will launch on July 30 its first campaign for a Brazilian brand. For now, the name of the company is a secret. "I can say that is a great brand. But I can not reveal the name yet", said John deTar, Poptent co-managing director in Brazil. I talked to him just a few hours after Poptent announced the opening of a new office in Sao Paulo.
John deTar, an American who is living in Sao Paulo since February, believes that Brazil is suited for crowdsourcing initiatives like those developed by Poptent, because the country is recognized as one of the main poles of world advertising creativity and has a population that is highly engaged in social media. "Brazil is home to a growing and dynamic combination of video consumers, content creators, and innovative brands," explained Mr. deTar.
He told me that Sao Paulo is a very difficult city to live when you think only about transportation, but it is a really nice place when you look it through people.
According to Mr. de Tar, with a new Sao Paulo office, Poptent will be able to more directly engage a growing localized base of brand advertisers and content creators. "As well as a Brazilian marketplace that has already proven itself to include one of the world's fastest-growing and most engaged populations of Internet users", he said. The Poptent Sao Paulo office is the first outside the United States and is located in the elegant área of Jardins.
"We are witnessing a turning point in advertising." Is his opinion, the world is changing faster. And the advertising is changing rapidly as well. "People want to be associated with brands. And they want help these brands make better products. It is more than sharing ideas," said Mr. deTar. He used the example of Facebook, where people are engaged strongly with brands they like. "And we believe in the capacity of Brazilian production."
Poptent chose Brazil because it is one of the world's fastest-growing online video markets, with comScore reporting that Internet users in Brazil viewed a total of 26.2 billion online videos in 2010, and YouTube experiencing 33% year-over-year growth in unique viewership. It's strong and rapidly growing participation in social media was also a factor.
Poptent also just announced that it has awarded more than $2 million in cash payments for completed video assignments, crossing this mark when Brandon Carter, a Brooklyn, NY-based videographer, received $10,000 for his development of this video as part Dell's 'Mobility Gives Ability' Campaign.
By Flavio Gut
Flavio Gut is Crowdsourcing.org's correspondent in Brazil. Flavio's experience includes executive editor of Agêncita Estado and newspaper O Estado de S. Paulo, and reporter at Agência Folha, Agência Estado, and Jornal da Tarde. He can be reached at flavio@crowdsourcing.org