Finding the best route to the office, home or the airport was once the responsibility of fixed GPS devices, but fortunately for Smartphone owners, that's no longer the case. The fact of the matter is GPS manufacturers have utilized the power of the crowd to refine their traffic data for years now, but some companies and start-ups are simply outmatching these partially crowdsourced-methods and therefore they are on their way to replacing the traditional manufacturers that are heavily invested in 
last-generation devices.
Crowdsourcing.org has compiled a list of the 'crème de la crème' of these real-time user-based traffic data innovators that will make your journey more fun and get you to work on time!
Starting off our list is TomTom's MapShare feature with 20 million users worldwide. The Dutch company harnesses the power of the crowd to provide real-time road changes, as updated by its users using the company's technology.

The Trapster app, recently acquired by Nokia's Navteq along with an existing 9 million user-base. While the sum involved with the acquisition was not disclosed, the Reach Unlimited Corporation who operates the app (along with two others) and now belongs to Nokia utilizes crowdsourcing to alert users when they reach speed traps. There are 4 default alert categories including police, speed camera, red light camera and usual hiding places, as existing traps are displayed in a Google-powered map.

Another notable crowdsourced traffic provider, Alex Bell's iPhone app dubbed SubwayArrival also found its way to our list. While it's not related to above ground traffic in any way, it utilizes Google Maps technology to display the movement of particular NYC subway trains while relying on supporting user iPhones for data.

Google's Google Maps pioneered real-time traffic data for its Android users back in July-August 2009. The search giant gave crowdsourcing a first try (at least in this area), as it switched from gathering data from local highway authorities to tapping into GPS-enabled phones that use Google Maps with the My Location feature. This enables the company to display traffic flow for all mapped roads being used by its users, rather than providing data only for main highways.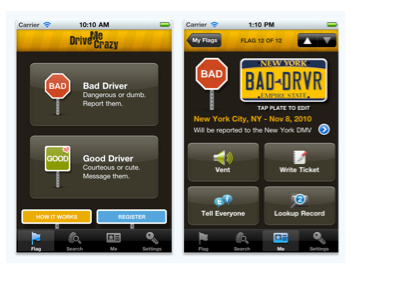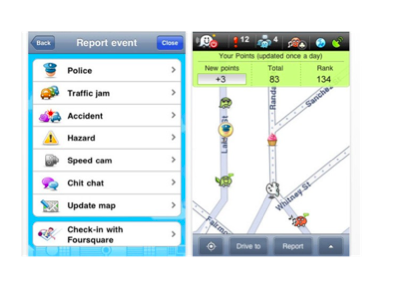 Inghelbrecht's DriveMeCrazy free iPhone app. Just released on Monday, December 13, 2010, the app enables users to 'speak' aggressive drivers' license plates into their Smartphones and share it with their fellow drivers. This app basically crowdsourced road safety to the drivers themselves, as aggressive driver behavior accounts for half of all UIS car accidents. Nonetheless, the app also carries additional features including the option to message 'cute' drivers, and stream amusing rants.


The number one traffic data crowdsourcing app landing our list is of course the free Waze, available for all major mobile OS's.
Waze who recently raised a handsome $25 million in Series B financing, enables users to receive real-time local traffic data in a highly-informative Mario-like form. In exchange for points, users submit live traffic jams, speed camera, hazards and accidents data, which are all compiled in a single map showing the best route to any destination. A notable chat option is also included.

So, it seems that the real-time crowdsourcing of traffic data, is the future of personal navigation systems. Nonetheless, these new services share the same dependency, which is of course they require user inputted data to provide their edge. If there aren't enough users there isn't enough data, which will probably mean a small number of dominant companies will emerge to control this space over the next few years.

So, what's your favorite traffic app? We would love to review it….let us know!