Since the credit crunch, many entrepreneurs in the U.K. and elsewhere have found it difficult to get access to capital to grow their businesses. That's a problem that Dan Rajkumar, founder of a company called Web Translations Ltd, experienced first-hand — so he decided to do something about it.
Rajkumar took an interest in the fledgling crowdfunding sector and created a company called rebuildingsociety.com, a peer-to-peer lending platform for businesses.
"I really wanted to create something that was really easy to use, efficient, enabled people to get better rates on their savings, and connected up borrowers who wanted access to the funds," he told Crowdsourcing.org. "Being able to do these deals bypassing the banks means everybody gets a better deal."
Related:
- An Overview of Crowdfunding Models in the U.K.
As the platform's name suggests, rebuildingsociety has ambitious goals. The company's founder wants it to become the leader in democratizing access to capital, taking specific aim at Funding Circle, a leader in U.K.'s peer-to-peer lending space.
"Essentially, we are following the steps of Funding Circle and have plans to match up with them and overtake them in a couple of years," Rajkumar said.
His company is well on the way to meeting that goal. Since facilitating its first deal six months ago, rebuildingsociety has done nine more deals. One loan has already been fully repaid, and there have been no defaults or arrears. The average interest rate is 16.3 percent.
"We've got the best rates in the industry," the founder said. "Nowhere else is it that high."
As Rajkumar points out, though, the crowdlending sector is a fairly new one and there is little competition over customers for now, overtaking the market leaders in any industry requires innovative features and services that customers cannot find elsewhere. rebuildingsociety, its founder figures, has a number of those.
One of those is associated with the businesses the company channels funds to, and the risks involved.
"Quite often, Funding Circle rejects businesses that they wouldn't be prepared to lend to because they expect their defaults to be very low, whereas on our platform, the interest rates are a bit broader," Rajkumar explained. "So we can allow for a few more defaults to be factored in… It is a bit more commensurate with the level of risk that we're taking, so lenders can expect a default of three to six or seven percent, depending on the risk band of the business that they choose to lend to, but generally, the businesses are quite strong in terms of their credit rating."
Moreover, the platform does more after the loan is done, says the founder.
This means following up with a business to see how it's performing and offering advice around managing a financially responsible company. It also means encouraging lenders to connect the businesses they invest in with mentors and focus groups, which can help businesses get a better understanding of how customers perceive their services and reach new clients.
"It's in the lender's interest to see that business perform," Rajkumar noted.
But perhaps the thing that separates rebuildingsociety most from its competitors is the white-label service the company announced on June 6th.
The service gives companies in Europe and the U.S. an opportunity to launch their own debt-based platforms. rebuildingsociety offers a number of features through the white-label offering, including compliance with appropriate laws. This is currently limited to U.K.-based platforms, though Rajkumar says his team is following developments around the JOBS Act in the U.S.
The service also helps to promote introducers – finance brokers, IFAs, accountants, and other professional advisors – who may be sidelined when they turn to a site like Funding Circle.
"For introducers, that means we have a platform and give them a license to work with a particular territory – a part of the country, or a different industry sector," Rajkumar explained. "What we found is that a lot of the introducers who originally [send] deals to Funding Circle – when the businesses are going back to borrow, they're not doing it through the introducer, they're cutting out the introducer and going directly to Funding Circle. We think there's a job there for the introducer to help the business prepare itself in the best shape possible before it applies for the funding, so we don't really want to compete with our introducers. We want to support them and build a strong network."
Rajkumar said a number of sites have taken advantage of the white label service already. One of those companies is eMoneyUnion, which focuses on peer-to-peer lending for individuals. The platform Zopa, along with several others, already occupies this space, though eMoneyUnion is different in that it allows individuals with poor credit rating to take loans if they can get a guarantor to back the transaction.
rebuildingsociety acts as proof of concept not only for the white-label platform, but the crowdlending industry in general. Rajkumar expects the sector to grow rapidly in the near future. According to a survey the platform recently conducted, as many as one in four Britons would consider joining a peer-to-peer lending scheme, and there is much room to grow for the fledgling industry.
"We expect the peer-to-peer industry to grow to over 12.4 billion (pounds) next year, so there's a lot of scope for it," Rajkumar explained. "We want to help new market entrants take advantage of the industry."
To learn more about the platform, check out the video below: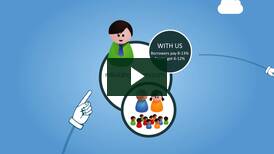 Disclosure: rebuildingsociety.com is a client of Crowdsourcing.org / Massolution.