Utilizing the crowd for the benefit of social endeavors is a popular model that is being embraced and adopted, its effect having great impact across the globe. The ability to tap into an unlimited, on-demand labor pool, a "public crowd", has its appeal but also its challenges. By definition, a virtual, highly distributed labor-force that can self-elect work can't promise the same workers each time nor that the workers will be equally trained or qualified.
Samasource however operates with a different philosophy that benefits and rewards both their clients and the workers. By offering a "private crowd", Samasource presents an alternative value proposition: a qualified distributed pool of labor that is dedicated, well-educated, trained and motivated.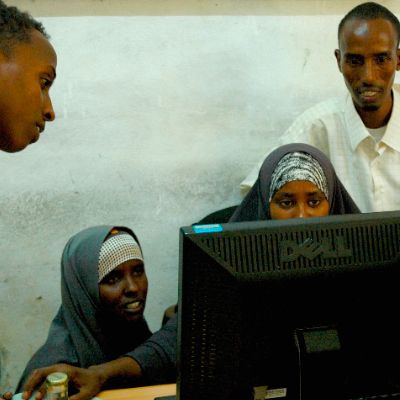 I recently spoke with Leila Janah, CEO of Samasource, about the company's vision and business model. Samasource offers a "private crowd" as a model that fits between traditional outsourcing and crowdsourcing; the former providing advantages delivered through the organization of qualified labor and the latter delivering the greatest labor arbitrage advantage.
Samasource focuses on work that requires a level of training and dedication that crowdsourcing is not yet able to accommodate. Unlike crowdsourcing entities such as Amazon Mechanical Turk and CrowdFlower, who source work to individuals that do not rely on these assignments as their primary source of income, Samasource employs a dedicated workforce, managed off-shore by trained service partners that provide quality control in designated work centers. Janah describes Samasource as "a distributive work company that employs crowdsourcing principles."
Outsourcing relies on the ability to drive efficiency into a work force by investing in training, processes and tools. The work a company is outsourcing is usually a non-revenue generating support function whereas for the outsourcing company the same work becomes a primary core capability. A specialist workforce can deliver increased capability and quality. Outsourcing to lower cost labor markets also adds the additional cost advantages. However, today's outsourcing market is largely a play for the large enterprise with upwards of a few million dollars a year to many hundreds of millions of dollars of work to outsource.
On the other hand, crowdsourcing promises massive cost saving potential on highly labor-intensive work by tapping a workforce of many thousands of individuals with access to the Internet. These individuals are hungry for work but for a variety of reasons are not members of the established big-enterprise labor force.
Samasource, through its "private crowd', brings a unique value proposition with a "best-of-both-worlds" model. For companies looking for high quality and sophisticated workers to tackle large volumes of work, Samasource fills this need. From their San Francisco based corporate office, account teams work with clients to understand needs, design programs, and oversee the assignment and delivery of work. Teams monitor quality and measure workflow in order to ensure customer expectations are met. Typical services include content generation for SEO, business-listing verification for product enhancement, contact/lead management, and audio/visual content moderation.
Samasource may very well have positioned themselves to fill a void in the market to meet the needs of a business that has specialist tasks to perform but that is looking for an on-demand supply model. Ross Tisnovsky, Vice President of Research at Everest Research Institute, recently evaluated a number of crowdsourcing platforms. In his evaluation, Ross considered both the mass-scale, low-cost crowdsourcing labor marketplaces of CrowdFlower and Amazon Mechanical Turk, and platforms with highly-qualified communities of workers targeted at very specialized work such as Innocentive and Ideaconnection. The task presented was to locate and organize information about US corporations requiring a level of judgment to correctly interpret and categorize certain types of business events.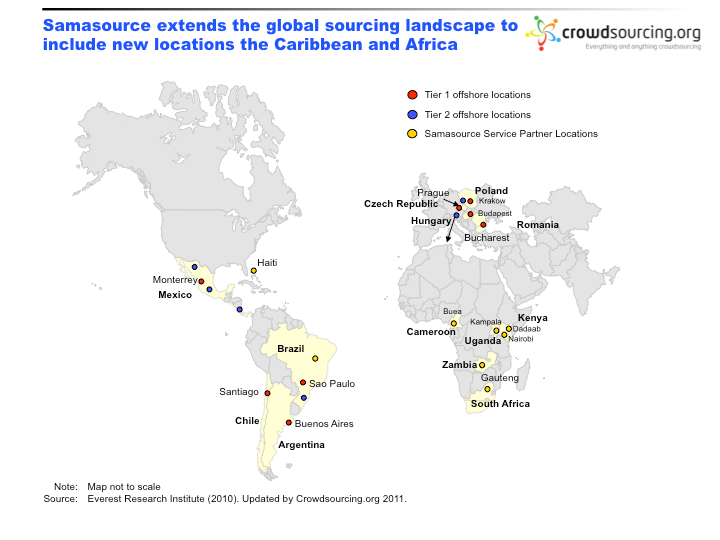 (Image credit: Everest Research Institute)
In the case of the initial analysis of the mass-scale low-cost crowdsourcing labor marketplaces, a crowdsourcing solution showed a significant benefit of a potential 30%-50% savings above the savings that were already derived from an Indian offshore solution, equating to a saving of 90%-95% against US labor rates. However, with these labor markets there were significant quality concerns and the high-end challenge oriented marketplaces provided good pre-qualification and quality control functionality, but came with high service costs, which would eliminate savings. His observation was that there appears to be a large gap in the middle, where arguable majority of typical business research tasks reside. A 'gap" that Samasource is very well positioned to fill.
With no illusion that securing many small and medium size businesses and a number of large enterprise as customers will be key to their commercial viability, at the core of Samasource is a social mission, which aims to elevate the dignity of marginalized people in developing countries by giving them meaningful work - hence the company's nonprofit legal structure. For example, in Kenya, 70% of college graduates are unemployed due to limited opportunities. Janah describes this as a well educated yet "underutilized" workforce that is now being offered increased opportunities through Samasource. To date, the company has employed over 900 dedicated workers. Nonetheless, the balance between profitability and social impact is delicate, and Janah describes this as the "trade off". Samasource has chosen the social benefit over profitability, yet the company must still generate enough revenue to cover expenses and fuel growth. For this reason, and despite its nonprofit structure, Samasource is run like a typical service enterprise.
(Image credit: Everest Research Institute)
Janah envisions scaling through what she describes as "super innovative technology" and a team-based working. Fundamental to Samasource's workforce quality and structure is the focus on teams that meet at a local center equipped with the technology and support needed to complete their tasks. They are also investing in better understanding their workforce in order to drive down the cost of account management over the long-term. Another goal is to focus on a transition strategy for workers given that their employment through Samasource is meant to give them the experience and tools to launch a career in digital work, yet the company currently does not provide a career path. Some ideas Janah is considering is transitioning workers to freelance work through other crowdsourcing or distributive work platforms such as ODesk.
Long-term, given the nonprofit setup, Samasource seeks sustainability through increasing sales and revenue, a small percentage of which covers operational expenses. However, one of the greatest challenges they face is the newness of Samasource's business model, which promises to deliver on client expectations yet is backed by a social mission. This model has no established precedent but Janah feels she can continue to successfully build the company's credibility and convince corporate America to value the social impact that Samasource provides. She refutes the notion that corporate America doesn't have heart: "corporate America is run by people and people do have heart. The issue is allocating a percentage of their budget to organizations such as Samasource, which will help them meet their goals but also give back."
So ultimately, it seems that while the crowd can be rallied for social good it seems that a running a highly-efficient operation and delivering a strong commercial value proposition will be at the core of Samasource's ability to deliver against its social agenda. Samasource must claim its niche and meet the needs of mid-size companies with enough scale to create a viable marketplace for a "private crowd" workforce that can deliver against more specialized high-volume tasks.