Many scientific advancements in prior centuries can be attributed to a single individual or, at most, two to three people that have either independently or jointly innovated. However, advances in technology, global communications and social interactions have meant that the 21st century will be recognized as the century where mass collaboration changes the paradigm.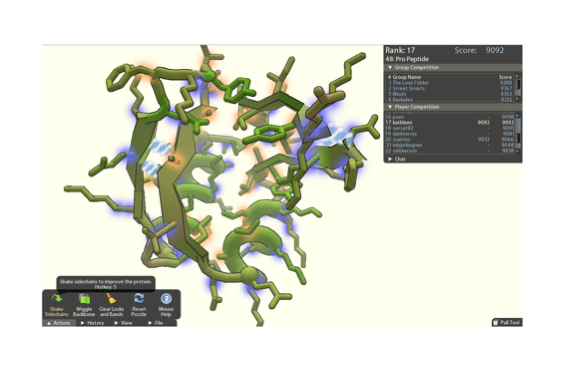 More than a way to leverage the spare computer cycles and the excess capacity of the masses as simply a means of scientific survival, Citizen Science has become more of a differentiator being leveraged to tap into a new brain trust and process mass amounts of data more rapidly and accurately than ever before. Scientists are now turning to crowdsourcing to engage large communities of home scientists to help process vast amounts of data and to draw accurate conclusions from scientific research. [Image credit: Foldit]
So, some of our greatest and most important scientific research is being supported not by our nation's greatest PhDs, but by those amongst us that have not hung-up our white lab coats or those of us that are less bothered by the cause, so long as participating is fun. Many projects completed or underway rely heavily on non-scientists that harness skills to provide the necessary feedback and input that even the most powerful and sophisticated technological creations cannot achieve without the touch of a human.
However, the remote input or processing of scientific data by distributed workers has not been called for in a way that blindly fire-hoses raw data, subsequently requiring armies of scientists to ponder, peruse and process. The effective pre-processing and sorting of data has been achieved through the creation of targeted systems and programs that capture the data provided through crowdsourcing platforms that ultimately produce results in filtered and organized information which in turn are delivered to real scientists in the form of less complex masticated data.

The Citizen Scientists are oftentimes not rewarded with monetary gain or special recognition. The mere opportunity to participate in a meaningful, scientific study, with a hope of making a breakthrough discovery, is compelling and rewarding enough for many.

Citizen Scientists can be can be recruited and harnessed in more ways that one and Phylo - A Human Computing Framework for Comparative Genomics, and the first on our list, takes the approach of providing contributors with an interactive game that turns play into contribution to science.


In order to understand genetic sequences and so decipher their structure, Phylo has created a game where genetic code has been translated into colors with the objective of aligning several genomes, represented by different strips, into columns of the same color while minimizing mismatches and gaps – very much like a game of genetic Tetris! As you play, the computer awards points for good matches and deducts points for mismatches and gaps. Players can also choose a puzzle to solve from the disease they want most to treat the most! [Image credit: Phylo]

Phylo have developed a remarkable way to collectively maximize the yield from a small amount of (free) spare time contributed by a mass of individual participants. The incentive lies in the challenge that any computer game player experiences when playing against the formulae that have made millions for digital game producers such as Electronic Arts which creatively increases the difficulty at each stage. At each stage, the game becomes more difficult. Once the player successfully solves the puzzle, then results are stored in the University of California Santa Cruz's genome browser. From there it is made available to scientists in a form that only trained minds can further decipher.

Second on our list is Hubble Telescope's Galaxy Zoo program which also offers entertainment in exchange for participation following the same principles adopted by Phylo.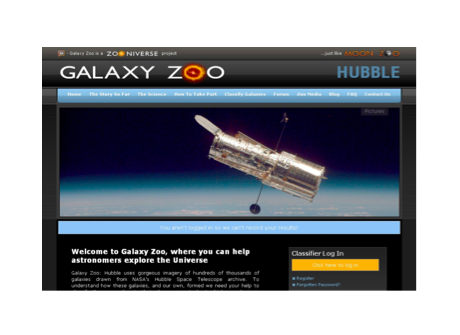 The GalaxyZoo project invites collaborators to take part in an initiative to classify galaxies. By tapping the available time from thousands of gamers and avoiding the expense of labor-intensive non-specialty research, highly qualified scientists are able to focus on specialty tasks and tremendous efficiencies are achieved in terms of speed, results, and reduced research costs. [Image credit: GalaxyZoo.com]

Participants are given pictures of galaxies and are required to answer certain questions like "is the galaxy cigar shaped?" and "could the disk be viewed edge-on?", etc. The questions and images that are presented tap into a human's ability to reason to identify similarities and differences based on visual appreciation. The challenge lies in the fascination of seeing galaxy formations that are usually hidden from public view and having the opportunity to match similarities and or highlight differences. Participants can opt to have their results -- which are relevant to the mapping of the galaxies -- logged in the master repository.

Another interesting example, which is number three on our list, could be reasonably held-up as symbol of the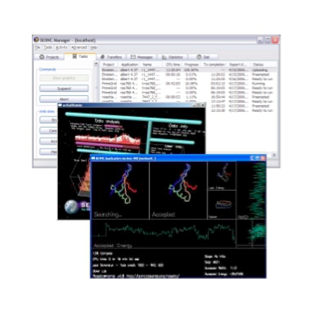 hi-tech and Internet revolution, and is of course BOINC, which harnesses the idle time of participants' computers for a massive, crowdsourced version of distributed computing. This computing power is then marshaled for and made available for virtuous scientific necessities including global warming research, planet discovery, extraterrestrial study, and more. The entities and projects utilizing the BOINC platform to crowdsource their research include SETI, FightAIDS@home, the Collatz Conjecture project and more. [Image credit: boinc.berkeley.edu]

The debate on what drives individuals to participate in crowdsourcing projects continues – monetary incentive, altruistic reward, the sense of camaraderie, the opportunity to make a difference – the possible motivations are many! For some, it's simply for the love and fascination of bees! Number four on our list is the 2008-conceived project to use crowdsourcing to gather information about our urban, suburban and rural bee populations. The GreatSunflower.org project, offers participants the chance to "join the hunt for bees!" An open-call is placed on the website's home page asking individuals to contribute around 15 minutes of their time to seed Sunflower, Bee balm, Cosmos, Rosemary, Tickseed and other seeds in their garden in order to attract bees, monitor them and upload data to the site.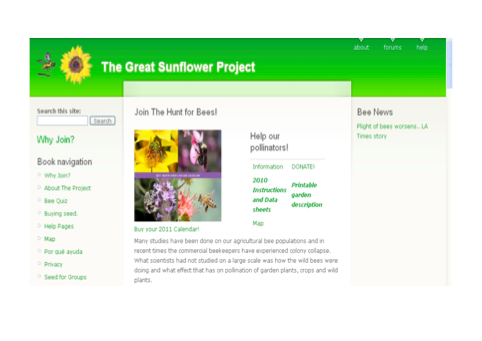 Targeting a very niche audience, the Great Sunflower Project targets bee and gardening enthusiasts to help research on a large scale what wild bees are doing and what effects there are on polination of garden plants, crops and wild plants.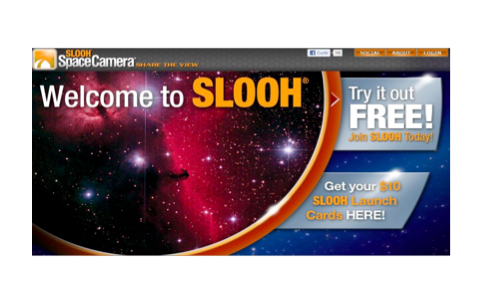 The unquestionable need to better understand the universe and use its vastness as a learning tool motivated a joint agreement between Google and Slooh, number five on our list of most notable Citizen Science projects. Now, instead of seeing just a small portion of the universe, users are able to explore the universe from any angle with Slooh's "map the universe" layer in Google earth. Without the special "map the universe" layer in Google Earth, users were previously limited to viewing images captured with traditional space cameras. Now, they can control Slooh's telescopes over 5-minute missions and experiment with the sensation of seeing the universe in very unique way.

The sophisticated feature enables users to experience the universe and to observe celestial beings while at the same time making an important contribution through the digital recording of their journey through space, creating a map of the universe as they explore space's final frontiers.[Image Credit: www.slooth.com ]

The enigma that surrounds a human's DNA has puzzled scientists for decades. However, with the recent discoveries that have been made and the gamut of information from the past, researchers have finally put the pieces together at Ion Torrent, number six on our list, which is a business division of Life Technologies.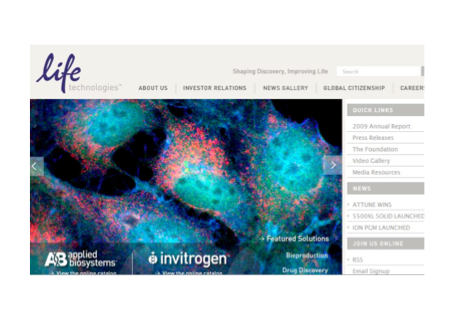 In an effort to secure mass-collaboration, the company has launched a $7 million competition to reward talented minds for their potential contribution in perfecting the Personal Genome Machine sequencer that the company has developed. The machine relies on semi-conductor technology and has the capability of transforming chemical data into digital information. It is the first of its kind in the world and creative minds can enter the Grand Challenges Contest. [Image credit: www. lifetechnologies.com]

Number seven on our list is Foldit, a revolutionary new interactive computer game that enables participants to contribute to important scientific research. Foldit Users are provided with rules and parameters that they have to follow and that allow them to correctly arrange the on-screen protein into small shapes. The Foldit game will determine whether humans' intuitive capacity to break through spatial reasoning and visual challenges results in pattern-recognition and puzzle-solving abilities beating existing computer programs that are specifically designed to compute pattern-folding tasks. If this turns out to be true, Foldit will use the discoveries's to teach human strategies to computers that will then be able to fold proteins faster than ever!

In light of the many additional science projects utilizing crowdsourcing such as eBird and MilkyWay@home, it is clear that harnessing the power of the crowd offers untapped new potential for advancing scientific research. When the audience is engaged and provided with a clear and measurable goal, they can accomplish great things, even if it is one bee at a time. If scientists continue to push the envelope and think of creative ways to tap into the input of non-scientists, then the possibilities are endless.