It is human nature to want to denounce injustices and expose wrongdoing - these intrinsic desires can motivate a crowd to play "watchdog"....and so we have seen the rise of crowdsourcing platforms that provide some degree of monitoring, with the goal of reporting irregularities. Sound like a police state? Well, it depends on what is studied and what is revealed! We all remember The Guardian's citizen journalism project initiated in 2009, which tapped the crowd to make public the scandalous expenditures of English MPs through an online competition, triggered by news of a £1,600 ($2,630) taxpayer reimbursed duckhouse, purchased by Sir Peter Viggers, an MP from Hampshire. In this instance, passive readers were transformed into active investigators!
A few more recent examples include:
The Guttenplag Wiki (Germany)

This site should be well known, especially since it has been covered extensively by the media in Germany. It was set up to detect plagiarism in the dissertation (of now former) Defence Minister Karl-Theodor zu Guttenberg, and in six weeks found nearly 1,200 instances of plagiarism (representing over 80% of the entire publication). The founder of the Guttenplag wiki, called 'PlagDoc', is unknown. In February 2011 he released a Google Doc to the public with the dissertation review process and an invitation to participate via Twitter. After the document was overloaded because of the great rush, he transferred the information collected to Wikia. Subsequently, two interim reports and a graphical representation have been published, which has fueled public debate and ultimately brought the case to the government's attention.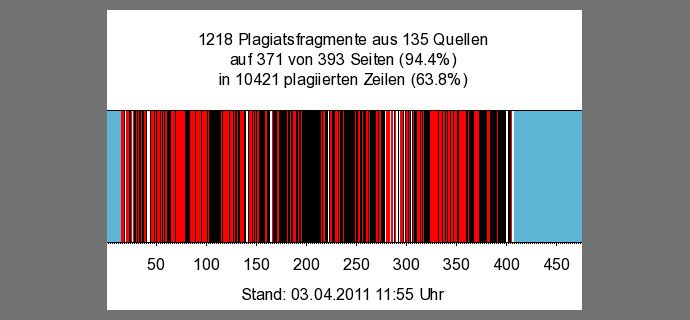 The project generated so much attention because it was promoted in the media as the "prime example of the power of the mass" - for the first time rendering the research expertise of leading media obsolete. After Karl-Theodor zu Guttenberg's resignation made headlines, the Spiegel Online reported in a piece titled Network Overcomes Minister: "the debate about Guttenberg would have been different, had this new power not done what it does best: create transparency, [and] make information available to optimize communication. "

After the success of the by Karl-Theodor zu Guttenberg incident, internet activists now want to investigate further cases of plagiarism. The list includes names like Guido Westerwelle, Angela Merkel and Helmut Kohl. It remains to be seen who will be the next to step down!

Churnalism (England)

The British site Churnalism.com is focused on journalistic integrity. An independent platform, Churnalism.com is operated by the Media Standards Trust and funded by donations. The initiative they have taken is to distinguish "real" journalism from 'Churnalism', meaning press releases, which are now accepted as journalistic articles and published.
Currently, the platform will review all posts dating back to 2007, including national newspaper websites and media outlets such as the BBC and Sky News Online (based on a database of more than three million articles on journalisted.com) to cross-check them with public press releases. Users are also invited to upload press releases themselves. Thus, the database can capture press releases that are sent to individuals, and in this way will be expanded gradually.

An item that has 20% similarity with a press release is marked as 'churn', which is considered to be inferior journalism.

Internet Eyes (England)

Useful detective work or simply voyeurism? Internet Eyes is a surveillance project in the UK, which allows participants to review images from multiple cameras acting simultaneously located inside local shops. As soon as anything unusual catches the user's attention, the amateur detective presses an alarm button, immediately notifying the shop owner by SMS, including a screenshot of the crime. All for a cost of £75 ($125) a month - nothing compared to the salary of a store detective. The savings don't stop there – according to reports, theft accounts for retail losses of nearly two billion pounds each year!

The surprise here is that users also pay for the application in the form of an annual £12.99 ($21) subscription. The earning potential, however, is a rather modest - 60 hours of work amounts to only £1.50 ($2.50), while referring another user pays £2.00 ($3.33). The only real incentive is a performance bonus of £1,000 ($1,667) for the "Detective of the Month". Quality is monitored using a point system, and users can be blocked for repeated false alarms.

Although video surveillance of public areas is quite common in the UK, this type of oversight may cause some alarm. The notion of the 'transparent customer' can be challenged, while there is also the possibility that the amateur detectives can post people's personal – albeit bizarre - shopping habits on YouTube!

British retailers are using the service - including supermarket chain Tesco and department store Marcs & Spencer - although given the controversial nature of this topic, they prefer to to keep it use under wraps. Internet Eyes should consider, despite the criticism, of extending the monitoring service to Germany!

So ... beware, the crowd is watching you!

By Claudia Pelzer, Crowdsourcing.org's correspondent in Germany.

Claudia Pelzer is founder of www.crowdsourcingblog.de.
BRINGING YOU CROWDSOURCING NEWS FROM AROUND THE WORLD