By Lisa Jing and Rob Laubacher

"Wicked problems are those for which no single computational formulation of the problem is sufficient, for which different stakeholders do not even agree on what the problem really is, and for which there are no right or wrong answers, only answers that are better or worse from different points of view," explains Thomas Malone, Massachusetts Institute of Technology professor and founder of the Center for Collective Intelligence (CCI).

The intractability of the wicked problem is what first inspired Malone to dream up the Climate CoLab. Global climate change is a perfect example of the wicked problem. There is a deadlock of perspectives on how to address climate change, how severe it is, and whether it is even real. People with different political and economic viewpoints will answer these questions differently. Malone imagined a tool that would be able to represent these mutually contentious perspectives but guide them towards solving problems and generating strategies for addressing climate change.

Three years later, we have the Climate CoLab. It holds an annual contest that invites the public to submit proposals in response to a central question about climate change; last year's contest focused on international climate agreements, this year's on the green economy. Selected through public voting and by an expert panel, the winners present their work to the United Nations and U.S. Congress. Our members can also contribute to structured debates and use modeling software that simulates the effects of altering carbon emissions levels on the environment and the economy.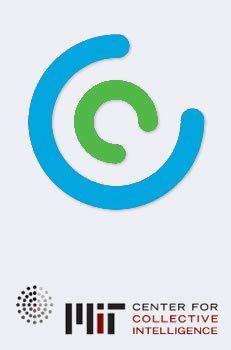 Many values have converged in the design of the CoLab: environmental consciousness, citizen activism, the importance of a multiplicity of perspectives, the enhanced decision-making of a human-computer system and the potential of crowdsourcing to enable all of the above. How have we been able to design a coherent tool from all of these values? One explanation is that the development of the CoLab has never been overly determined or overly centralized but is the result of many people — both on our staff and online at the CoLab — working together. Our collaborators have included computer scientists, social scientists, experts on climate change policy and science and savvy internet personalities who understand the dynamics of online communities. We are a highly diverse team, we check and balance each other, and the result is a tool that reflects the diversity of values of its makers.

We joined the team to play the role of "human" in a system and at a center that is devoted to "human-computer" interaction. Our goal is for the CoLab online to reflect and to enhance efforts offline to address global climate change. As a result, we work to understand the landscape of climate change activities, such as the regulatory protocols of the United Nations Framework on Climate Change Convention (UNFCCC), and to propose how our tool can fit in among but also expand these current pathways. Along with other community advisors, we work to connect diverse stakeholder groups to the CoLab.

From the perspective of our work, an important lesson has been the central role that community development plays for a crowdsourcing initiative. Building our community of members and experts has been difficult but invaluable. On our site, we emphasize a culture of participatory membership, an inclusive and shared creative process and proximity between the experts and our members. But we also work to ensure that this ethos of collaboration aligns with the interests of the stakeholder groups that we attract to our site. Luckily, some of this work has been done for us. In climate change policy, it is well established that coordination among impactful actors, from scientists to politicans to citizens, is needed — the real question is how to achieve this coordination. The CoLab offers a technological answer and we are confident that our members' proposals on cross-sector action and strategy will be useful to policymakers.

Additionally, from a technological perspective, we hope that the CoLab will also push the evolution of collective intelligence systems. After running two successful online contests, the design challenge that we now face is how to encourage concurrent streams of activity. Currently, our contest structure focuses our community on a single question at a time. While this approach enables centralized and transparent collaboration on a broad question, we want to encourage simultaneous brainstorming about component issues in climate change action. For example, what role can renewable energy technology play in reducing the risks of climate change? How would the knowledge and resources from advanced economies help rural farmers in developing countries adapt to climate change?

As a result, we are currently designing a flexible matrix that defines the climate change problem in terms of the "who," "where" and "what" dimensions. The "who" dimension describes the primary social group expected to take a proposed action: government, business, non-government organizations, schools and universities, grassroots citizens groups. The "where" dimension encompasses geography, as proposed actions can operate at different levels of geographic aggregation that include: international, national, state or provincial, local, and even household. The "what" dimension involves the types of actions that can be taken to address climate change: mitigation to reduce or sequester greenhouse gas emissions, geo-engineering to reduce their warming effects, adaptation to withstand the effects of warming on an ecosystem. Experts and members of the CoLab community will describe what combination of elements will be leveraged in a climate change strategies Finally, members will be invited to develop comprehensive proposals that combine multiple strategies and that address the potential synergies and conflicts among these strategies.

At present, we have an online community of more than 2,600 individuals, with strong representation from the university and grassroots communities. This year's contest attracted over 60 submissions and the crowd's intriguing and creative thinking impressed our panel of expert judges. We hope that you will contribute your intelligence to the collective by going to our site and voting for the proposal you think is strongest through November 15, 2011 at climatecolab.org.

Lisa Jing is a research specialist and Rob Laubacher is the associate director of the Center for Collective Intelligence, Massachusetts Institute of Technology, the birthplace of the Climate CoLab.