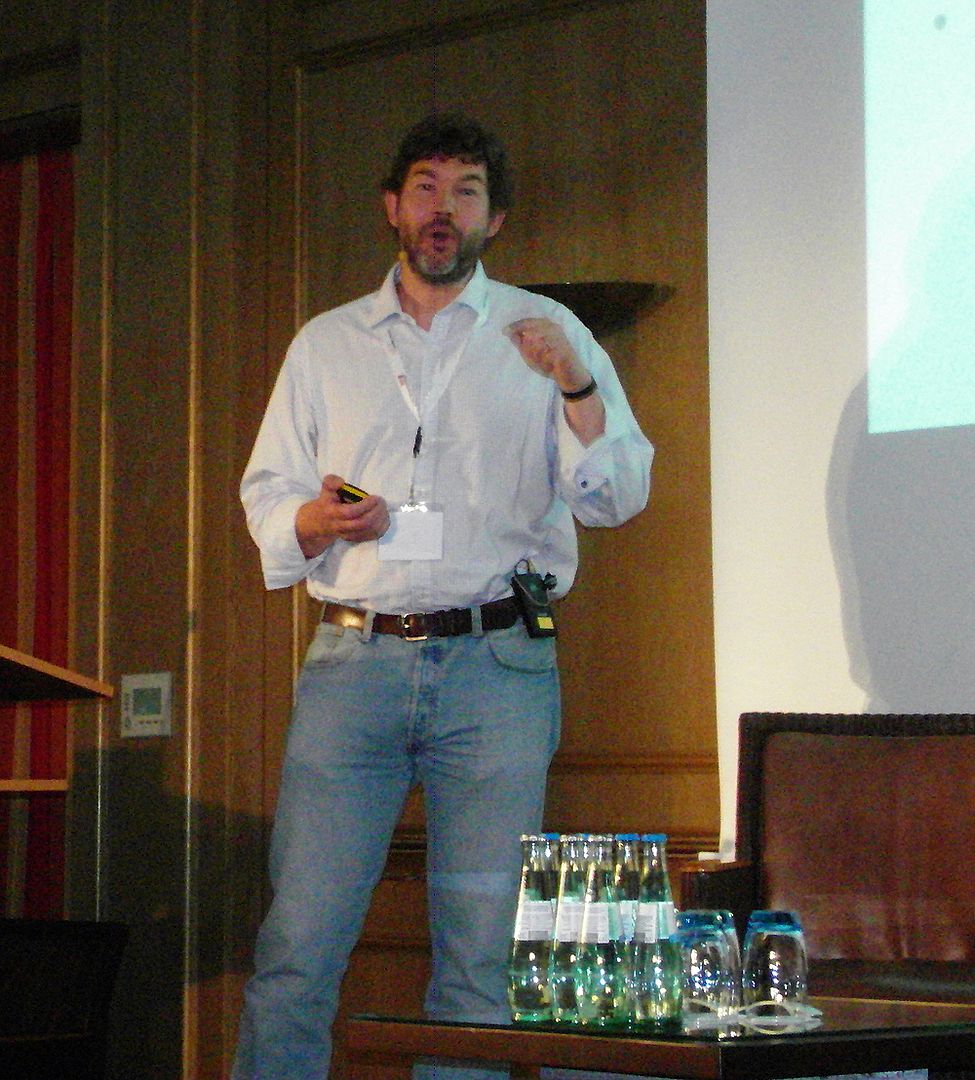 In an attempt to revolutionize the newspaper market, a British company started ViewsHound.com and designed an online portal where content is created and marketed by users.
You are not to be envied, worldwide publishers. The ever-shrinking ad revenue and number of subscriptions have brought the once lucrative market for small jobs almost to a standstill. The concept of paid editorial staff seems only to still be in effect within highly specialized niches or for major publications. Publishers such as Axel Springer, The Mirror, and Gruner & Jahr have tried all sorts of experiments to market their content digitally. And although sometimes the content is available on a site's homepage for only paid subscribers, it is still being directed there from Google for free.
Stephan Bisse (pictured above at CrowdConvention 2011) is aiming at exactly the opposite with ViewsHound. This Berlin-London collaboration has launched a digital publishing platform that wants to outsource all the tasks of publishing to users, with the exception of technology.
It works like this: current demand rests around 8,000 registered users who want to write a story. The best articles are selected, published, and prize money is awarded. The proposals are submitted and evaluated by users, with the platform currently receiving some 100 articles per day.
A final round of editing monitors the quality of the texts and makes sure that no legally problematic content is present. But even this function Stephan Bisse will pass on to the community. "It's just a question of the numbers of pairs of eyes that look at it - then errors are found." For example, Bisse explained that photographs that could violate copyright are detected very quickly by the community.
The trick to ViewsHound lies in marketing. Also assume the user. First, they may use the finished and edited articles on all of their own platforms, such as on Facebook as well as their own blogs. This allows the writers to generate a small contribution to the blog, but more importantly, to create a viral effect. The articles carry a link to the source that becomes advertising for the ViewsHound platform.
During the initial phase a major chunk of revenue is being generated from Google Adwords advertising and affiliated systems; in the future there is the possibility to complement this with premium partners and topic sponsors. Also to be explored is input from readers/writers themselves: "they are much closer to the market and know which company may wish to advertise in a particular environment." The revenue is divided equally. Currently, an author receives an average between 20 and 30 Euros per post. Over the next year, this would increase tenfold.
An initial conclusion after being live three months is that, surprisingly, 70% of the readers and writers are women. The hits are coming via Facebook. "Facebook is a perfect CRM (customer relationship management) tool for crowdsourcing," said the Berlin-based Bisse.
But the project is not without its difficulties. Immediately after its launch, the British Association of Journalists spoke up and demanded that the server be shutdown! The complaint was dropped once the site could credibly claim a fair and transparent billing model. Stephan Bisse is clear that his model cannot replace daily newspapers in all facets. "Investigative journalism will always be the core competence of the editorial, and we cannot expect volunteers." When asked how such a system affects journalistic training, indeed based primarily on the fact that young journalists won't have the old hand on the shoulder, Bisse responded pragmatically: "It is now very difficult for to get a job with a major publisher. Perhaps ViewHound.com is indeed the platform for the gentle introduction. Learning by experience."
By Frank Puscher
Frank has worked as a freelance journalist for online business since 1994. He writes for all major German publications like InternetWorld Business, Internet Magazine, Page, Ct or Webselling. Additionally Puscher is managing partner of Freigeist, a Hamburg based consulting company for strategic online marketing.