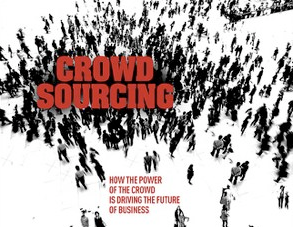 When I coined the word crowdsourcing five years ago, the phenomenon itself hardly existed. Oh sure, there were a few glaring examples: Wikipedia, of course, and that massive hurly burly of user-generated content known as MySpace. NASA, I recall, was already experimenting with using volunteers to measure asteroid craters. But the original article was, in a sense, an act of prognostication. I was saying, "This is how things will be." It was a gamble, and it happened to pay off.
A lot changed between 2006 and 2008, when my book was published. In writing the book I faced an entirely new challenge. I no longer had to predict the future; I had to analyze and interpret the present. Books force you to create taxonomies by their very structure: Chapters are subdivisions of a larger subject.
The problem was that examples of crowdsourcing now proliferated across every domain of human endeavor. When asked what couldn't be crowdsourced, I used to answer: a restaurant. Then one day a Washington Post reporter called to ask me what I thought about a new--you guessed it--crowdsourced restaurant. My answer to that question these days? Everything can be crowdsourced. I figure it's best to play it safe.
In trying to bring some coherence to this dizzying variety of online collaborations I came up with four basic categories:
1) What the Crowd Knows: A large share of what we think of as crowdsourcing involves the attempt to solve problems by tapping into what people already know. This is nearly synonymous with what's often thought of as the "wisdom of the crowds," which as I always say, is just one type of crowdsourcing. To quote the economist, F.A. Hayek, society is best able to solve its problems "not by the acquisition of more knowledge, but by the utilization of knowledge which is ... widely dispersed among individuals."
What Hayek couldn't know is that the Internet would come along, allowing us to gather up much of that previously dispersed information. In this category I included firms like InnoCentive, which broadcasts scientific problems to a large network of scientists, in this category, as well as efforts like the Netflix Prize, which awarded $1 million to the team of researchers who improved their recommendation engine by 10 percent.
2) What the Crowd Creates: iStockPhoto.com wants you to make something then sell it to them for very a little bit of money. So do logo design firms like CrowdSpring and 99Designs. Ditto "journalism" startups like Helium and, for that matter, AOL's Patch. If there was one crucial distinction I drew in my book, it was between forms of crowdsourcing that rely on what people already know (see above), and what people can make. As we'll see, I still believe that drawing this line is the most important aspect of any crowdsourcing taxonomy, but it needs to be refined.
3) What the Crowd Thinks: What do Yelp, "American Idol," Amazon, and The New York Times have in common? They all rely on the crowd to either explicitly (Yelp) or implicitly (The Times, through its "most-emailed" bar) pass judgment in order for them to organize their content.. As I noted in my book, this may be the most pervasive use of crowdsourcing of all. It also raises one problem we face in creating a current taxonomy: Crowd filtering is in fact so ubiquitous (try finding a web commenting system that doesn't allow you to "like" or "dislike" someone else's comment) that it has, in a sense, transcended the larger category of crowdsourcing. It's simply become, well, the Internet.
4) What the Crowd Funds: This refers to crowdfunding, a splinter term of crowdsourcing that I first saw pop up in reference to the Dutch music company Sellaband back in 2006. Of all my four categories, this is the most discrete and coherent. There are no blurry lines here: If crowdsourcing is Wikipedia with everything, crowdfunding is Kickstarter with everything.
Now we get to the challenge presented by the state of affairs facing us today. The purpose of this post is not to rehash old categories. It is partly to reconcile my old taxonomy with the taxonomy presented by Carl Esposti on this site back on 16 May 2011. More to the point, I'm proposing it as a working draft. (I'm open to the suggestion that we go so far as to post it as a wiki.) My hope is that it might lead to a consensus among practitioners, scholars, entrepreneurs, and of course, the poor hacks like me who make a living trafficking in these terms.
Here is my attempt at a refined taxonomy, something that's robust enough to bear scrutiny, yet flexible enough to contain all those examples of crowdsourcing we haven't even encountered. I'm going to move from the simple to the tricky. Let's start:
1) Crowdfunding: As we say in the news business, stet. That means: Don't touch a thing.
2) Tools: This category was proposed by Esposti, and I think it's a valuable addition to the way we think about crowdsourcing. Someone has to provide the engine for crowdsourcing, and we all need a category for the companies that aren't necessarily crowdsourcing themselves, but are providing the software, the experience, the wherewithal to do it. Ushahidi and Chaordix both provide archetypes for this classification.
3) Open Innovation: Most of the companies and crowdsourcing efforts that fall under this category would have originally been put inside my first category, "What the Crowd Knows." This area has grown dramatically over the past few years. InnoCentive has now been joined by new entrants like IdeaConnection, and large corporations like Nokia and Unilever have employed open innovation to augment their in-house R&D departments.
I have a really simple argument for sticking with this term: Don't fix what's not broken. Open innovation has become part of the business lexicon, and there is fairly wide agreement over what it means. I would, however, guard against its misuse by restricting the label to companies who are, in Henry Chesbrough's words, wholly or in part relying on "external ideas as well as internal ideas" as a way to "advance their technology."
4) Cloud Labor, or Distributed Labor: When I was writing my book I encountered a hell of a pickle: How would I classify Amazon's Mechanical Turk? As you can see above, MT doesn't fit neatly into any of the categories I created. The process by which MT--and the many third-party firms that used it as a platform--procured labor was similar to what services like CrowdSpring were doing: Matching clients with an always-on, scalable workforce. But the nature of the labor was hardly creative, right? In the end, I wrote a separate chapter on Mechanical Turk, and it wound up on the cutting room floor.
Esposti neatly resolved my error by creating a category he calls "cloud labor," which includes companies ranging from CrowdFlower to oDesk to Clickworker.
I would go a step further. I think there's a strong case to be made for merging this category with one that encompasses "creative crowdsourcing." One man's "creativity" is another man's drudgery. How we classify the nature of the labor is subjective, and thus doing so creates a false distinction. It's no accident that oDesk (a "cloud labor" company, under Esposti's system) currently lists 149 jobs for illustrators. They've invaded Crowdspring's territory, and with good reason: They're really very similar services.
I'll go further with this, because it represents a wholesale rethinking of a classification system into which I put months of thought: I was never terribly happy to create a taxonomy around the type of work that was being crowdsourced. It's an inherently unstable designation. Let's take the term out of our taxonomy. As a final note, while I like Carl's term "Cloud Labor," which makes the obvious link to cloud computing explicit, I like "Distributed Labor" even better. Either one is preferable to any category that incorporates the slippery term "creativity."
5) Distributed Knowledge: Again, I see the central division in crowdsourcing as laying between firms that tap people's knowledge and their productive capacity. I think it's a fairly obvious, and easy distinction to make (though I recognize that even here there is overlap.) Distributed Knowledge basically just puts my twist on what Esposti calls "Collective Knowledge" It includes a lot of what journalism outfits like the New York Times and CNN are doing in that they seek to exploit what someone knows (often by simple virtue of being at the right place at the right time). And its purest expression is probably companies like the social news aggregator, Reddit, or even Dutch navigation system TomTom. Reddit asks us to submit what we're reading, and what we think about what others are reading. TomTom simply asks us to update their navigational data based on what we discover as we drive.
There's a nifty trick here. I had thrown services like Reddit into my "What the Crowd Thinks" category. But what we think and what we know aren't readily distinguished. Esposti recognized this in creating the category "Collective Knowledge," and thus helped resolve another failing of my original scheme.
The Outtakes: One of my goals in this post was to simplify current crowdsourcing taxonomies. To that end, I'm going to advocate abolishing "civic engagement" and "community building." Like the notion of "creativity," I think we step down a slippery slope as soon as we try to evaluate whether a company or institution or non-profit has civic or philanthropic motives in mind. We should categorize them according to the type of crowdsourcing in which they're engaged. Finally, "community building" strikes me as one of the steps toward crowdsourcing, but it isn't in and of itself crowdsourcing. It loads the gun, in other words. It doesn't fire it. Thus, I would classify Get Satisfaction under Distributed Knowledge, not community building.
Am I wrong about any of this? Surely. As I said, this is meant to start the conversation, so give me your edits, your complaints, and your modifications. I look forward to hearing from you!