The debate about the definition of crowdsourcing continues and the conversation inevitably draws to what exactly is and what isn't crowdsourcing. While it's interesting and fun to reference historical examples of open collaboration, it can actually confuse the dialogue. Historical examples are useful though in enabling a clear comparison with what we have chosen today to define as crowdsourcing.

The Longitude Prize of 1714, offering £20,000 in an open call to anyone that could come up with a way for merchants and sailors to navigate at sea, won by John Harrison, the son of a carpenter; the Niagara Suspension Bridge prize of 1847 offering a $10 prize to the person who could successfully lay the first line across the Niagara won by a young boy using a kite; the project to compile the first Oxford English Dictionary in the late 1890's that involved a group of scholars breaking the work into manageable chunks and enlisting the support of the crowd – the examples are numerous! While these examples and many more show that open calls to undefined groups with the offer of a monetary or altruistic award is nothing new, they don't fit with our definition of crowdsourcing!

Things all started changing when we all became connected. If you look at the progression of communications from the 70s to today the trajectory was always in favor of increasing levels of interconnected activities – it's a natural progression.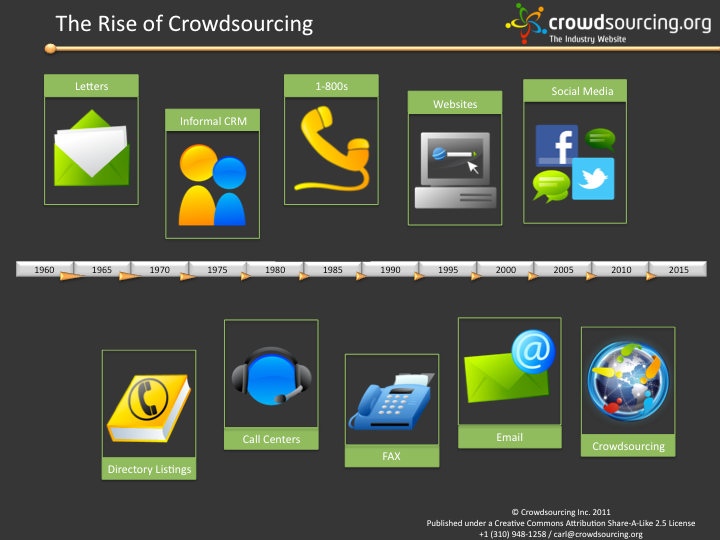 From the introduction in the late 60s of directory listings (which interestingly were first put online in the US when an enterprising individual took every hard copy directory within the US to China and had Chinese workers enter all the data into an online directory thus avoiding copyright infringement, as the US courts considered the work to be original art) through to the introduction of call centers in the 80s, the mass adoption of email in the late 90s, the explosion of websites in the 2000s, through to the use of social media sites as a primary communication platform, the means by which we could interact has changed at each step in a consequential way.

The ability to collaborate as groups and the desire to seek a compelling idea from the crowd is innate behavior – what stopped us before was a rapid way of exchanging information with large and diverse groups of people.

Crowdsourcing's advent is a function of a number of things coming together that make it possible.

1. The adoption of high-speed Internet

Over 80% of households today have broadband connection to the Internet. The cost of bandwidth has come down substantially and you can use as much as you want for a fixed price so there is no deterrent for how much data we send or how long we spend online.

2. The structure of the workforce has changed

It's reported that anyone graduating today will have on average twelve different jobs by the time they reach 35. With reported unemployment across the US and Europe at an average of 12% (real numbers are probably closer to 20%) many more people are filling their workday with freelance or part-time work. In a much more dynamic and virtual work environment we look for work online.

3. International Payment Systems

A significant impediment to engaging a global workforce was the lack of international payment systems that both made it possible and also affordable to transfer small amounts of money to internationally based workers. With PayPal and laws such as SEPA in Europe that impose a regulated maximum of 35 cents per transaction, it has become cost effective to crowdsource small tasks. There are still some issues making payments to countries such as Russia, Turkey, India and China but over time these barriers will be removed.

Defining crowdsourcing

I continue to quote Brabham's definition of crowdsourcing as the one that works best for me. He defines it distinctly as a distributed model for online production and problem solving – if you can include the financing of production then, for now, I think he captures the concept. Where I differ with Brabham is in the detail of the fine print. When asked to define the attributes that define crowdsourcing I refer to the following:
Crowdsourcing requires online participants to create something – not every instance of an online community is crowdsourcing;
It requires the internet so that calls can be made to a large number of highly distributed individuals;
The output must be either directed by a sponsor (e.g., Enterprise buyer) or they can be self-organized collaborations (e.g., open source projects);
Online communities are tapped for specific purposes requiring their resources, wisdom, knowledge, their talent or their time (or a combination thereof);
The output of crowdsourcing is expertise-based, knowledge-based or process-based;
Outsourcing and crowdsourcing differ in philosophy and models of worker participation:

With outsourcing there is restricted participation and a philosophy of end-to-end responsibility;
With crowdsourcing there is open participation and a philosophy of disaggregation.

So, where is this all pointing to? In my daily discussions with all sides of the crowdsourcing industry, from providers seeking to grow market to buyers adopting, or at least evaluating, crowdsourcing as a viable delivery model, I think I have a reasonably qualified perspective of where things stand and where it's all going. My estimate is we are still a couple of years away from crowdsourcing becoming mainstream – certainly as a dependable model for supporting the delivery of enterprise processes. What do you think? Am I right or wrong?
Special thanks to Wolfgang Kitza, CEO of Clickworker for his contributions towards the development of this post.